Baez puts on 'quite a show' with offensive performance
Baez puts on 'quite a show' with offensive performance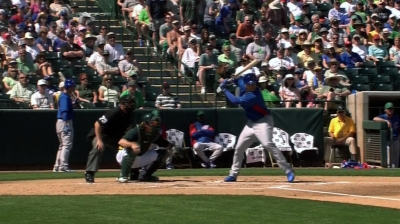 CHICAGO -- Theo Epstein was in his office when he saw Javier Baez's first home run Monday night. He was in his suite at Wrigley Field when the Daytona shortstop hit his second of the game.
When it was Baez's turn to hit, a crowd gathered. The Cubs' No. 1 prospect didn't disappoint. Baez hit four home runs Monday night, only the second four-homer game in Florida State League's 94-year history, and finished with seven RBIs to help the Class A team.
"It was quite a show," said Epstein, the Cubs' president of baseball operations. "He sprayed it around, covered different parts of the strike zone, different pitches. His swing is really under control and that's the great thing about Javy and his bat speed. He doesn't have to swing for the fences. He can take a nice, normal under-control swing, the type that would normally produce a line drive or a ball in the gap, and in his case, there's plenty of carry over the fences."
Cubs manager Dale Sveum watched video of Baez's blasts.
"I wish I could've seen where they landed," Sveum said Tuesday. "The swings were pretty good. I've been watching the video anyway, but one good thing about it is he's calmed down. He's cut down his movement [on his swing] about 40 percent, 50 percent. It's a lot more calm and controlled."
Baez, 20, the Cubs' No. 1 Draft pick in 2011, was batting .291 with 13 home runs and 44 RBIs in 57 games. He's also been charged with 26 errors.
"A lot of his errors have been extreme plays at the end of his range or weird things on rundowns, or trying to do too much," Epstein said. "He needs to polish that up. We actually feel better at this moment about his ability to play shortstop every day in the big leagues than we did on Opening Day because of the way he's playing shortstop. He needs to clean it up, but I have no doubt he can play shortstop at the big league level."
Carrie Muskat is a reporter for MLB.com. She writes a blog, Muskat Ramblings, and you can follow her on Twitter @CarrieMuskat. This story was not subject to the approval of Major League Baseball or its clubs.