Arcia returns to starting lineup after being recalled
Arcia returns to starting lineup after being recalled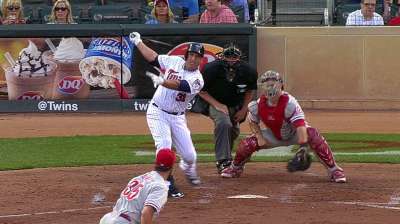 MINNEAPOLIS -- Outfielder Oswaldo Arcia was officially recalled from Triple-A Rochester on Tuesday, and started in left field and batted sixth against the Phillies. He went 1-for-4 with an RBI double in the fourth inning of the 3-2 win.
Arcia, 22, was recalled after rookie center fielder Aaron Hicks was placed on the 15-day disabled list with a strained left hamstring on Monday. Hicks suffered the injury trying to beat out a grounder during the second game of Sunday's doubleheader against the Nationals.
It marks the second time this season Arcia was recalled, and he hit .255 with four homers and 14 RBIs in 30 games before being optioned to Rochester on May 24 after falling into a 3-for-32 slump.
Arcia was reduced to designated hitter duty in Rochester after injuring his shoulder in his first game back in the Minors, but he returned to the outfield on Monday. He hit .218 with three homers and two doubles in 15 games with the Red Wings after being sent down.
"It was all about going down there and getting his swings in," Twins manager Ron Gardenhire said. "He went through a little bit of a struggle here at the end. So it was, 'Just get your swings and be ready for when we call you up here.'"
Hicks' injury came at an unfortunate time, as he'd been coming around at the plate. He hit .267 over his last 12 games, and his six homers since May 1 ranks second on the team behind Ryan Doumit's eight.
"I thought he was going along pretty good," Gardenhire said. "But we all had a tough time over there in Washington. But I thought he had some good at-bats and got himself into some good counts. He's going to go through some ups and downs still. But you never wanna see a guy go down with an injury."
With Hicks out, Clete Thomas is expected to see increased time in center field, and he got the start there on Tuesday. Fellow outfielder Wilkin Ramirez, who has seen some time in center this season, remains sidelined with concussion-like symptoms. He's been cleared to resume baseball activities, but there still is no timetable for his return.
Rhett Bollinger is a reporter for MLB.com. Read his blog, Bollinger Beat, and follow him on Twitter @RhettBollinger. This story was not subject to the approval of Major League Baseball or its clubs.