Three O's 'Tribute for Heroes' finalists announced
Three O's 'Tribute for Heroes' finalists announced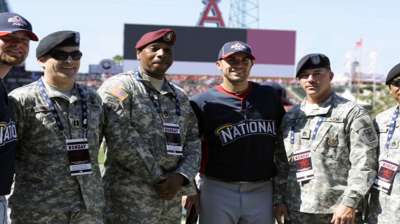 BALTIMORE -- Major League Baseball on Tuesday announced the 90 finalists for MLB and PEOPLE Magazine's "Tribute for Heroes" campaign honoring the nation's veterans and military service members.
Each club has three finalists and the 30 winners will be recognized before the 2013 MLB All-Star Game at Citi Field on July 16th and broadcast on FOX. Fans can vote now through June 30th to honor a military hero at TributeForHeroes.com. The Orioles' three finalists are Melissa Garcia, Rob Jones and Jessie Lopez.
Garcia enlisted in the Air Force after high school and twice had to leave her husband and daughter for deployment to Afghanistan and Spain. Her Spain deployment was cut short when doctors discovered she had breast cancer. She continues to raise her daughter and support her family all while educating her peers about ways to get involved.
Jones lost both legs to an IED in Taliban territory in Afghanistan in 2010 while serving with the U.S. Marines Corps. He picked up rowing during his recovery time and decided to try out for the 2012 Paralympics. Jones and his partner won the bronze in London. And now, he plans to cycle across America for charity to aid disabled veterans.
Lopez risked his life in 2004 in Iraq to protect others, as his unit fought off repeated attempts by enemy forces to seize a key Iraqi police station. He's passionate about community service, and coached Little League for Aberdeen, Md., Parks & Recreation. He volunteers at the Perry Point VA Hospital, Homes for Heroes Program and once ran a race to raise more than $500 for soldiers with traumatic brain injuries.
Along with MLB and PEOPLE, a guest panel including General Peter W. Chiarelli (retired) and General John M. "Jack" Keane (retired) alongside MLB players Justin Verlander of the Detroit Tigers, Nick Swisher of the Cleveland Indians, Barry Zito of the San Francisco Giants, Jonny Gomes of the Boston Red Sox, Brad Ziegler of the Arizona Diamondbacks, Chase Headley of the San Diego Padres and Craig Stammen of the Washington Nationals assisted in the selection process for the 90 finalists.
Derek Wetmore is an associate reporter for MLB.com. This story was not subject to the approval of Major League Baseball or its clubs.