Angels burned by two-out rally, fall to Orioles
Angels burned by two-out rally, fall to Orioles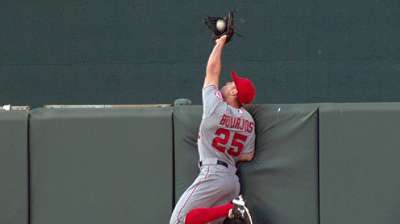 BALTIMORE -- Sean Burnett has been on the disabled list twice and will continue to be out a while longer, his sore left elbow keeping him away from picking up a baseball for at least the next four weeks. That leaves Scott Downs as the only veteran lefty in the Angels' bullpen, making him a vital component to the club's hopes of consistently holding leads and keeping games close.
On Tuesday night, he didn't come through.
In relief of a solid Jason Vargas, with the bases loaded, two outs and a tied game in the bottom of the seventh, Downs came in to face the left-handed-hitting Nick Markakis and gave up a two-run single that wound up being the difference in the Angels' 3-2 loss at Oriole Park.
It was the first inherited runner Downs allowed to score since May 1 -- a span of 13 appearances.
Asked where the decisive, 1-0 sinker was relative to where he needed it to be, Downs said: "Not even close.
"I've faced Nick over the years quite a bit," the 37-year-old lefty added, his ERA still at 2.00. "I knew what he was wanting to do, he knows what I'm wanting to do. He's a good hitter. In a situation like that, you really can't make mistakes. I was trying to run it in on him, and it stayed middle and he got good wood on it."
Since winning eight games in a row, the Angels have now lost 11 of their last 15 games. At 27-38, they're now 11 games below .500, the most they've been through 65 games since they began 1994 with the same record. At this time last year, the Angels had already climbed out of their early-season funk, sitting at 34-31.
In a game featuring an assortment of standout defensive plays -- none greater than J.J. Hardy falling victim to another stolen home run by an Angels center fielder, this time Peter Bourjos -- Jason Vargas became the tough-luck loser.
He gave up just one run through the first six innings, keeping the score tied at 1, then loaded the bases on three consecutive two-out, infield singles before Downs served up the winning hit.
But, as Angels manager Mike Scioscia said, "If you're going to be a good team, and that's our goal, you have to play at a high enough level to absorb the bloop hit, or absorb the call you don't get from an umpire, or absorb the bad hop."
The Angels couldn't, because they couldn't figure out Miguel Gonzalez, who pitched eight innings of one-run ball, allowing just four hits and walking one.
Asked if it was his best game of the year, Gonzalez, who entered with a 4.05 ERA, said: "It probably was. I made good pitches when I needed to, and we played a good game all around."
Down two in the ninth, the Angels built a late rally against O's closer Jim Johnson, getting a two-out double from Josh Hamilton and an RBI single from Albert Pujols. But Mark Trumbo struck out looking, and the Angels fell to 12 games back of the first-place Rangers in the American League West.
"We just can't get that key hit," said left fielder Mike Trout, who homered for the second straight day and 12th time this season. "We were fighting in the ninth, but we have to have that fight in earlier innings. You can't just wait until the ninth inning."
Scioscia waited until the bases were loaded in the seventh to take out Vargas, who had already thrown 113 pitches and was about to see the lineup turn over for the fourth time. Asked if he felt like he could keep going, Vargas gave the answer any competitor would.
"I always feel that way, especially when you're out there competing," said Vargas, now 5-4 with a 3.74 ERA. "Unless you're getting ready to fall down, everybody wants to stay in."
But Scioscia felt it was time, even though no balls were hit hard that inning and even though Markakis' career numbers against Downs (6-for-19) were better than those against Vargas (4-for-22).
"Even though they had three infield hits, he threw a lot of pitches to get to that point in the game," Scioscia said. "Getting really 20 outs in [113] pitches is a lot of work. So, I think in that point in the game, just to get a fresh look and a fresh arm was what we were looking at."
And that's why Downs is so important.
"I don't like giving up starters' runs, especially when they pitch their [tails] off," Downs said. "Vargy did. It's frustrating, but tomorrow's a new game. Hopefully, the situation comes up again and we get to reenact it."
Alden Gonzalez is a reporter for MLB.com. Read his blog, Gonzo and "The Show", and follow him on Twitter @Alden_Gonzalez. This story was not subject to the approval of Major League Baseball or its clubs.