Coghlan sidelined indefinitely with back strain
Coghlan sidelined indefinitely with back strain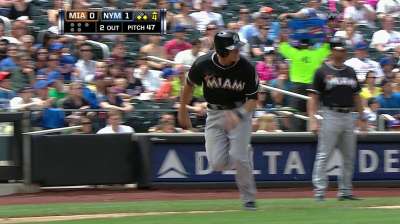 MIAMI -- The results of Chris Coghlan's MRI on Monday showed that the outfielder is suffering from what the Marlins believe to be a lower back strain, sidelining him indefinitely.
Coghlan was originally placed on the 15-day disabled list with right calf nerve irritation on June 9 when Miami reinstated Logan Morrison from the 60-day DL.
"His pain was in his calf and his leg," Marlins manager Mike Redmond said. "With the MRI, it's his back. It wasn't his leg."
When asked if Coghlan's injury would keep him out beyond the All-Star break, Redmond was uncertain. The specific nature of Coghlan's injury remains uncertain.
It's hard to say until we really figure out what he's got going," Redmond said. "He might have to go off and do some more tests to exactly figure out what he's got going back there."
Miami loses one of its best bats in Coghlan, who was batting .343 (23-for-67) with four runs scored and nine RBIs in 73 plate appearances since earning a spot in the everyday lineup on May 18.
He had only 68 plate appearances in the Marlins' first 42 games.
"I feel terrible for him, because he was patient," Redmond said. "He didn't get a ton of chances early and made the most of his playing time. He's red hot. He was probably our best offensive player."
The hot streak was a welcomed resurgence for Coghlan, who had struggled since finishing 11th in the Majors with a .321 batting average in 2009 en route to being named the National League Rookie of the Year.
Coghlan batted just .238 from 2010-2012 and spent some time in the Minors, playing 84 games with Triple-A New Orleans last season.
"Everybody's frustrated, especially him -- with how far he's come and the kind of year he's putting together. But at the same time, too, hopefully we'll get him feeling good and get him back on the field and he can finish the season strong."
The recent returns of Giancarlo Stanton and Morrison help soften the blow of losing Coghlan, and the Marlins will press on in a season during which they have yet to play at full strength.
"It's been one thing after another this year," Redmond said. "We get a couple of guys back, and we lose a couple of guys."
Christina De Nicola is a contributor to MLB.com. Joe Morgan is an associate reporter for MLB.com. This story was not subject to the approval of Major League Baseball or its clubs.