Mets shift Murphy to first base, Valdespin to second
Mets shift Murphy to first base, Valdespin to second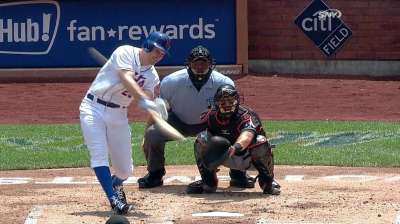 NEW YORK -- As Daniel Murphy was busy discussing the Mets' new defensive alignment Tuesday afternoon, Justin Turner tossed a first baseman's glove to him from across the clubhouse.
"They haven't put the gold label on it yet," Turner quipped.
How often Murphy uses the leather will depend entirely upon how long regular first baseman Ike Davis stays in the Minors, attempting to work out the kinks in his swing. In the interim, manager Terry Collins revealed that Murphy will slide from second to first base, while Jordany Valdespin will take over everyday duties at second.
Against select left-handed pitchers, Collins may move Murphy back to second and use new callup Josh Satin at first. But with a run of at least six consecutive right-handers facing the Mets this homestand, Murphy and Valdespin will stay at their new positions for at least the immediate future.
"We trust Terry, and he runs the ship," Murphy said. "I'm a player. So when he tells me, 'This is what I think is best for the team' … I'm excited about it."
Entering the night with 218 career games at second base compared to 165 at first, Murphy last took grounders at his new position this spring. Most defensive metrics pegged him as a better first baseman until this season, when he began showing marked improvement at the keystone.
Still, neither he nor Collins admitted any concern to moving Murphy now, at a time when he finally appeared comfortable at second base. Collins said shifting Murphy was preferable to starting Satin every day at first, or to moving Lucas Duda from left field -- where he remains a well below-average defender -- to his natural position at first.
"What trumped everything is we don't think Ike's going to be gone very long," Collins said. "So we did not want to move Lucas to first base and send a terrible message that that job's taken."
Moving Murphy instead of Duda will also allow the Mets to give Valdespin an uninterrupted run at second base, his own natural position. Starting mostly in the outfield against right-handed pitchers, Valdespin entered Tuesday's play with three home runs and a .294 on-base percentage in 93 at-bats.
"I think it's my time, because they want to give me the chance to show I can do my job and help my team," Valdespin said. "The best I can do is come to the field and work hard every day, and focus on the team when the opportunity is there -- ready my mind and ready my body to do my job."
In Tuesday's lineup, Valdespin led off, with Murphy batting cleanup and Duda fifth.
"This is about winning baseball games," Murphy said. "It's not about playing one position over another. We've got to win baseball games. And today against the St. Louis Cardinals, this is the lineup that he thinks gives us the best chance to win."
Anthony DiComo is a reporter for MLB.com. Follow him on Twitter @AnthonyDicomo. Chris Iseman is an associate reporter for MLB.com. This story was not subject to the approval of Major League Baseball or its clubs.