Shuffled deck yields same results in loss to Cards
Shuffled deck yields same results in loss to Cards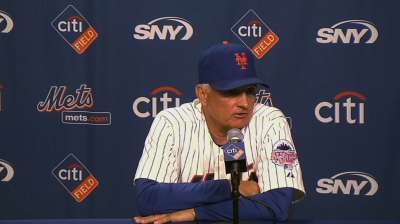 NEW YORK -- Over the past three days, the Mets overhauled one-fifth of their active roster. Seeking a spark, they shuttled struggling first baseman Ike Davis and three others to the Minors, also cutting ties with outfielder Rick Ankiel. They replaced that group with two new relievers, a first baseman and two outfielders.
Then they set about the process of fitting their new puzzle pieces into place. The Mets shifted Daniel Murphy to first base, named Jordany Valdespin their regular second baseman and offered Kirk Nieuwenhuis regular time in the outfield.
The only thing they were unable to change was their results. Murphy's error at his new position Tuesday night keyed a five-run fifth inning for the Cardinals, who scored seven unearned runs in skating to a 9-2 win over the Mets at Citi Field.
"Realistically, you know that against this team in particular you're going to have to play flawless," said third baseman David Wright, who was unable to turn a would-be double play in the five-run fifth. "Although we scored early, we weren't really able to get to them after that."
The Mets were indeed nursing an early lead when Murphy committed his gaffe, knocking down a ground ball but throwing well off-target to first, where pitcher Jeremy Hefner was covering. Hefner then allowed a double to Pete Kozma, RBI groundouts to Cardinals rookie starter Michael Wacha and Yadier Molina, and a game-breaking three-run homer to Allen Craig. Due to the error, all five runs were unearned.
Hefner called his changeup to Craig "the worst pitch I've thrown all year," considering the circumstances. Craig credited his teammates, calling the Cardinals a "collective offense." But the Mets still might have avoided most of that damage had Murphy made the play at first base.
"I misplayed it," he said, downplaying the notion that the error had anything to do with his comfort level at first. "It's a good ballclub, so unfortunately they made me pay for it."
A sixth unearned run scored after Nieuwenhuis committed a two-base fielding error in right field in the seventh, on Molina's fly ball, allowing Matt Holliday to single him home. A seventh came when another newcomer, lefty Josh Edgin, issued a bases-loaded walk later that inning. That marked the 14th time in franchise history the Mets allowed at least seven unearned runs in a game.
It was a new and different way to make a loser out of Hefner, in a game that -- like so many others -- the Mets might have kept closer if not for their complete lack of offense. New York's only runs off Wacha, who earned his first Major League victory, came in the first inning, when Omar Quintanilla homered and Marlon Byrd lifted a sacrifice fly to center. Lasting six innings, Wacha allowed just three baserunners after the first.
"He just got better as he went," Cardinals manager Mike Matheny said. "I thought that showed a lot of heart and a lot of focus, and he never really let it get to him. He started making pitches in the bottom of the zone, which made everything better."
In many ways, Tuesday's game was the start of a new chapter for the Mets, who have struggled to perform with any consistency this season. But on the next page, they found nothing more than a different translation of the same old story: they pitched decently, but did not field cleanly enough nor hit well enough to remain competitive.
Hefner bemoaned his pitch to Craig. Murphy berated himself for putting Hefner in that position in the first place. Manager Terry Collins defended his decision to use Murphy at first base instead of Lucas Duda or Josh Satin, both of whom boast more experience at the position.
In the end, it was a combination of all of those things that led to the loss, just as the Cardinals relied on more than one person for the win.
"I don't know how many times we've talked about pitching and defense, they go hand in hand," Collins said. "There's going to be a lot of talk, 'Why Dan Murphy at first base?' Hey, look, Dan Murphy's a good first baseman. He's a very good first baseman. Lucas Duda hasn't had a ground ball all year long. It was the right move to make right now. He didn't make the play -- it just happens."
Anthony DiComo is a reporter for MLB.com. Follow him on Twitter @AnthonyDicomo. This story was not subject to the approval of Major League Baseball or its clubs.