Stewart suspended after Twitter statements
Stewart suspended after Twitter statements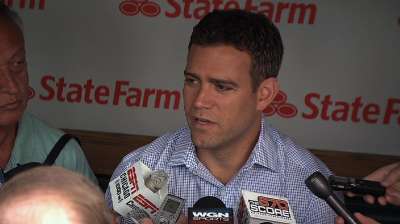 CHICAGO -- Ian Stewart was suspended without pay from Triple-A Iowa by the Cubs on Tuesday after his rant on Twitter about his status in the organization and Chicago manager Dale Sveum, who called the comments "unprofessional."
Theo Epstein, president of baseball operations, said the length of Stewart's suspension would be announced either later Tuesday or Wednesday. The Cubs were still "jumping through some legal hoops" regarding the discipline, Epstein said.
"There is a loyalty clause in his contract that requires a certain standard of personal conduct, and [Stewart] didn't adhere to that, so he'll be suspended," Epstein said Tuesday.
Stewart apologized for his comments Tuesday afternoon. He tweeted: "I want to apologize to the entire Cubs organization for my comments on twitter." Stewart added: "I let my frustrations get the best of me and in no way want to be a distraction."
"I am focused on getting back to the big leagues and am working every day to make that happen," Stewart said.
Said Epstein: "He made a mistake, he apologized for it, we're taking some disciplinary action, but it's over at this point."
In particular, Epstein wasn't happy with the comments directed toward Sveum.
"I think it's pretty obvious that it's not appropriate to criticize your manager and organization on Twitter," Epstein said. "I think it's a pretty isolated case, literally and figuratively."
Epstein said he wasn't surprised by Stewart's comments, knowing the third baseman was frustrated with his situation.
Sveum said he lobbied the Cubs to bring Stewart back after the 2012 season, in which he only played 55 games because he needed wrist surgery.
"I was all on board to bring him back and give him another chance and give him a chance to prove what he can do at the big league level with the Cubs, and obviously it didn't work out," Sveum said. "It's unfortunate that people have to vent their frustrations through social media."
In Spring Training, Sveum said the third-base job was Stewart's to win, but he lost it to Luis Valbuena. Stewart strained his left quad in the first intrasquad game and never played any Cactus League games.
What about Stewart's tweet that Sveum didn't like the infielder?
"Everybody doesn't like me," Sveum said. "That's the way it is."
Stewart's agent, Larry Reynolds, issued a statement on Tuesday, saying it might be better if the third baseman was released.
"Ian is very apologetic for venting his frustrations with his situation in that manner," Reynolds said. "He has apologized to the Cubs organization and does not want to be a further distraction.
"With that being said, if the Cubs don't have Ian in their future plans, I feel that it is in the best interests of both parties for the Cubs to release him and end this relationship," Reynolds said.
Stewart, 28, who started at first base Tuesday for Iowa against Oklahoma City, was 1-for-3 with a RBI double Monday night. After the game, he vented on Twitter after a fan asked if there was "any word when you're heading back to Chicago." Stewart replied: "Probably never."
Another person responded, saying Stewart should quit baseball. Stewart's response: "Why should I quit? I'm making 2 mill in AAA like u would give that up by quitting."
Stewart signed a one-year, $2 million contract last December after the Cubs non-tendered him.
Someone else said that if Valbuena was hurt, Stewart would be called up. Stewart's response: "I honestly believe if Valbuena were to get hurt cubs wouldn't cal [sic] me back up just MHO."
He then added: "I said that because the cubs are done with me ... there [sic] going to let me rott [sic] in AAA all season and then non tender me after."
Stewart suggested the Cubs "might as well release" him so he could sign with another team. Stewart said Sveum was the reason he won't play for the big league team.
"I think dale doesn't like me and he's running the show," Stewart tweeted.
In an interview with MLB.com in May, Stewart said he enjoyed playing for the Triple-A team and had accepted that he might be there the entire season. On May 3, Stewart was activated from the disabled list, then placed on waivers and eventually outrighted to Iowa.
"He had the right to elect free agency and decided not to, so he decided to become a Minor League player with us and he is," Epstein said.
When the Cubs made the roster move, Epstein told Stewart that Josh Vitters will get most of the playing time because he was "the future at third." Vitters is currently rehabbing at the Cubs' facility in Mesa, Ariz.
In 39 games with Iowa, Stewart was batting .164 with four home runs, six doubles and 19 RBIs in 110 at-bats. He began his pro career with the Rockies in 2007, was traded to the Cubs in '11, and signed with the Cubs as a free agent in December '12.
Carrie Muskat is a reporter for MLB.com. She writes a blog, Muskat Ramblings, and you can follow her on Twitter @CarrieMuskat. This story was not subject to the approval of Major League Baseball or its clubs.