Bullpen falters as O's win streak snapped
Bullpen falters as O's win streak snapped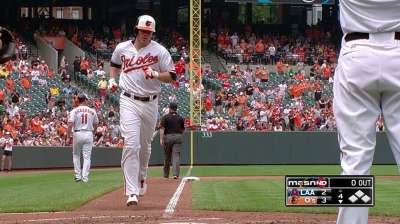 BALTIMORE -- The Angels scored six runs in the seventh inning on Wednesday at Camden Yards to surge ahead of the Orioles and avoid a three-game sweep.
Erick Aybar punctuated the rally with a bases-clearing triple to the right-center field gap off reliever Pedro Strop. Aybar scored on the play when Ryan Flaherty's relay throw scooted away from third baseman Manny Machado. That sequence flipped a two-run Orioles lead into a 6-4 deficit, and the Angels cruised to a 9-5 win.
"I was trying to go down and away, and I missed down and in," Strop said. "A happy zone for lefties."
Strop took the loss after a rough appearance in relief of starter Jason Hammel. Hammel pitched into the seventh inning, giving up four earned runs on seven hits. Not long after Hammel walked off the mound, Strop -- who inherited two of Hammel's runners on base -- left to a chorus of boos from the announced crowd of 25,964, having given up four earned runs and recording just one out.
"Yeah, it happened pretty quick," outfielder Nate McLouth said. "Got the first two guys on, then we switched pitchers and next thing you know we're down a couple runs. They struck quick in that inning."
The Orioles are now 0-5 in games in which they've had a chance to sweep a series.
After Hammel gave up a single and a walk to open the seventh inning, Strop replaced him with two men on and no outs.
Strop promptly loaded the bases when Hank Conger connected on an infield single before giving up the big hit to Aybar that swung the game in the Angels' favor.
"In that situation, I'm looking for one pitch, and he threw me a fastball right down the middle and I made good contact," Aybar said.
Conger's single, which preceded the bases-clearing triple, was heading up the middle. The ball bounced over the head of Strop, who was able knock it down, but he couldn't corral it in time to retire Conger.
After Aybar's hit, Strop walked J.B. Shuck and gave up a two-run home run to Albert Pujols to cap the six-run frame and give the Angels an 8-4 lead.
Of the 13 runners Strop has inherited this season, he's allowed seven to score.
Manager Buck Showalter said after the game there were a few relievers he wouldn't use to protect their arms, but he wasn't willing to "broadcast" that to the opponents.
"We can't pitch the same guys every night," Showalter said. "It just doesn't work, and Pete was one of those guys for us last year and has been at times this year, and we hope that he will again.
"We keep a pretty good log on innings pitched, and I'm not going to put anybody in harm's way."
Chris Davis, who was teammates with Strop in Texas, said it's "frustrating" to see Strop struggle this season, after a good year out of the bullpen in 2012.
"It's frustrating, because we know how could he can be," Davis said. "It makes you think a little bit about what's going on in his head. Whether it's fatigue from throwing so much already or if it's something else. But when he's on, he's one of the best guys in the game. I think we all have confidence in him that he'll get back to form and be as dominant as he can be."
The Orioles got on the board with a pair of RBI groundouts in the first inning. McLouth singled and Machado followed with his Major League-leading 28th double. Nick Markakis and Adam Jones both followed with run-scoring groundouts to give Baltimore a 2-0 lead.
Conger hit a deep drive to right field on a 2-0 pitch to trim the deficit to one in the third. He was batting left-handed against Hammel, and he pulled a ball out of the park so fast that Orioles fielders hardly flinched. The blast landed on Eutaw Street, so he'll get a commemorative plaque, just the second time an Angels player has accomplished that in Camden Yards, and the first since Lee Stevens in 1992.
In the fourth, Josh Hamilton singled off Hammel before Howie Kendrick drove him in with a double to the right-center field gap to make it a 2-2 game.
Davis led off the home half of the fourth with a bang, driving a knee-high fastball to center field for his Major League-leading 21st home run of the year, which gave the Orioles a 3-2 lead.
Adam Jones hit a home run to left to open the sixth inning. And Davis followed with his 100th career double, a drive to the gap in right-center field.
Then Angels starter Jerome Williams intentionally walked Flaherty to get to Taylor Teagarden, who grounded out to drop to 0-for-20 on the season.
After the Angels' rally, Baltimore made things interesting in the eighth when Hamilton dropped Jones' fly ball in the right-field corner. Jones ended up at third, and Davis followed with an RBI groundout. Chris Dickerson then doubled on a blooper down the left-field line, but that's all the Orioles could muster.
The Angels' bullpen combination of Dane De La Rosa, Kevin Jepsen and Ernesto Frieri pitched the final three innings to close the victory.
Derek Wetmore is an associate reporter for MLB.com. This story was not subject to the approval of Major League Baseball or its clubs.