Braves' pipeline teeming with big league talent
Braves' pipeline teeming with big league talent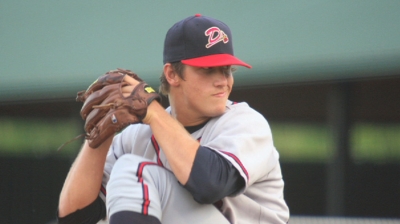 As the Braves concluded this past weekend's series against the Dodgers, 11 of the players on their 25-man roster had been acquired via the First-Year Player Draft. Eight of those players had been drafted over the course of the past six years, and three members of this group had been selected in 2010 or later.
Following the blueprint previous general managers Bobby Cox and John Schuerholz used while winning a record 14 consecutive division titles, Atlanta has continued to place an emphasis on scouting and development.
When overseeing his first Draft as the Braves' director of scouting in 2010, Tony DeMacio selected prized shortstop Andrelton Simmons in the second round and rookie sensation Evan Gattis in the 23rd round. His latest selection to reach the Major League level is left-handed pitcher Alex Wood, who was taken in the second round of the 2012 Draft.
While Wood has already reached the Major League level, last year's top selection Lucas Sims, a right-handed pitcher taken out of suburban Atlanta's Brookwood High School, and Josh Elander, a collegiate catcher taken in 2012's sixth round, have also made quite an impression during their first season at the professional level.
"Our player-development people do an outstanding job with our players, and we have all the confidence in the world in sending any player that we sign to our player-development people," DeMacio said. "I think Alex Wood and Lucas Sims and even Josh Elander, who's having a great year in [Class A] Rome, that's a credit to our development people."
While some clubs shied away from Wood's unique delivery, veteran scout Brian Bridges pushed hard for the Braves to take the southpaw out of the University of Georgia. The decision to do so has already proven beneficial, as Wood currently sits with J.R. Graham as the club's top two pitching prospects.
Wood experienced little trouble over 13 starts for Rome last year and then carried his success into this season, as he compiled a 1.26 ERA in 10 starts for Double-A Mississippi. The 22-year-old hurler's success prompted Atlanta to call him to the big league level two weeks ago to solidify its injury-depleted bullpen.
Sims has posted a 3.25 ERA and recorded 40 strikeouts in the 36 innings he had compiled through his first 13 appearances for Rome this year. The Braves have managed the 19-year-old pitcher's workload by allowing him to make just three starts.
Elander has batted .330 with nine home runs and a .955 OPS in the first 61 games he has played for Rome this year. The 22-year-old product of Texas Christian University was drafted as a catcher, but Atlanta is now using him as an outfielder.
The 2011 Draft has also already shown signs of being beneficial to the Braves. Sean Gilmartin, the club's first-round selection that year, has compiled a 4.43 ERA in his first 11 starts with Triple-A Gwinnett. Gilmartin's presence gives Atlanta some Major League-ready depth while some of the club's younger starting-pitching prospects progress through the lower levels of the farm system.
Graham has opened some eyes with his electric fastball and passion since being selected in the fifth round in 2011. The hard-throwing right-hander impressed during his first Major League Spring Training this year and compiled a 4.04 ERA through the eight starts he made for Double-A Mississippi before being shut down two weeks ago with a sore right shoulder.
The Braves' second-round selection in 2011 was shortstop Nick Ahmed, who was part of the five-man package used to acquire Justin Upton from the D-backs in January.
Graham and Wood could soon be vying to join an Atlanta rotation that already includes Mike Minor, who was acquired with the seventh overall selection in the 2009 Draft, and Kris Medlen, who was taken in the 10th round in 2006.
Mark Bowman is a reporter for MLB.com. This story was not subject to the approval of Major League Baseball or its clubs.