Patience proves to be a virtue for some players
Patience proves to be a virtue for some players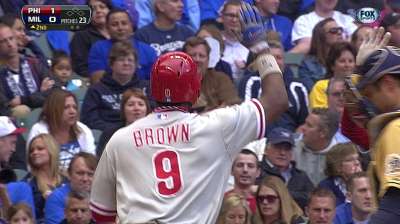 It's the rare star player who arrives as such on his first day in the Major Leagues. Like some furniture, assembly is usually required, and that process is much quicker for some than others.
In the case of several of this season's top performers, plenty of difficult times came first. But with a few years of experience, some adjustments and a helping of good fortune, the breakout has arrived.
With talented young players, sometimes the key ingredient is patience. A chance to work through failures can provide the path to success.
That seems to be the case with the National League's home run leader. Phillies outfielder Domonic Brown, who has blasted 19 big flies, is in his fourth big league season at age 25, yet already has set career highs in games played and plate appearances.
"He's getting to play every day," Phillies manager Charlie Manuel said. "He's getting used to playing in the big leagues. He's learning more each day. That goes back to consistency and he's starting to get consistent with his hitting. And he can even get better. One of the biggest things in hitting is comfort -- being able to be comfortable. And if any doubt or negativity creeps in and you get tense, it's all about comfort. Comfort is everything. Tension kills a lot of good swings."
After a torrid Spring Training, Brown's season began with a thud. He was hitting .206 with two home runs and six RBIs through April 23. In years past, he would have been packing his bags for Triple-A, but this time the Phillies stuck with him. He has since hit .321 with 17 homers, 41 RBIs and a .703 slugging percentage.
The only Major Leaguer to circle the bases more often than Brown has been Orioles first baseman Chris Davis, who also knows a thing or two about enduring struggles. He did that for much of three years after a solid rookie showing with the Rangers in 2008, then finally found himself after a trade to Baltimore in July '11.
Last year was the first time Davis played every day for an entire season. He also benefited from the teaching of Orioles hitting coach Jim Presley, who helped him learn to use the opposite field.
"I wasn't trying to pull everything; it wasn't by design," Davis said last month of his old approach. "I just didn't know what it meant to let the ball travel and really go the other way."
The 27-year-old saw everything click during a red-hot September last year, and in 2013, he has proven it wasn't a fluke. Although Davis has benefited somewhat from an elevated .392 batting average on balls in play (BABIP), he also has demonstrated his growth as a hitter by producing a career-high walk rate and career-low strikeout rate. According to FanGraphs.com, he is swinging at fewer pitches out of the strike zone and making more contact with offerings in the zone.
Through Sunday, Davis led the Majors with 20 homers, a .693 slugging percentage and a 1.109 OPS.
Like Davis, Brewers center fielder Carlos Gomez showed signs of progress in 2012 before busting out this year. Gomez has continued playing Gold Glove-caliber defense, and in his seventh big league season, the 27-year-old's offense has exploded. While maintaining his highly aggressive approach, Gomez has posted a BABIP well above his career level and greatly increased his isolated power, a measure of extra bases per at-bat.
The result has been that he is displaying the potential he never reached while with the Mets and Twins. He set career highs last season by hitting .260/.305/.463, numbers that pale in comparison to his .322/.363/.583 line entering Tuesday.
"You never want to take away a guy playing the game with the enthusiasm that he plays it with, but some of the things he had to clean up," Twins manager Ron Gardenhire said when his team played Milwaukee a couple of weeks back. "It sounds like he has. He got down to understanding what he's about as a player, and with all the ability that's a dangerous thing. He can do some damage. He can swing it, he's got a cannon, he can run. He's got all the tools. It's just a matter of harnessing it all and putting it to work in the right way."
Several other hitters also are making names for themselves this year. In Arizona, right fielder Gerardo Parra has seized the chance to play every day, while first baseman Paul Goldschmidt is first in the NL in RBIs and third in OPS in his second full season. Matt Carpenter, with his .412 on-base percentage, has established himself as a force atop the Cardinals lineup while also handling a move to second base. A's third baseman Josh Donaldson, demoted to the Minors last June while hitting .153, a year later ranks fifth in the AL in OPS.
Plenty of pitchers are having breakout years as well. Take Nationals starter Jordan Zimmermann, who has built on back-to-back solid seasons to emerge as one of the game's top hurlers. The 27-year-old, in his fifth season, picked up his ninth win on Sunday to tie him for the Major League lead, and his 2.00 ERA put him sixth.
While also benefiting from the third-lowest BABIP of any qualifying pitcher, the right-hander has made strides in a somewhat counter-intuitive way. His walk rate has dropped to 1.24 per nine innings (fourth in MLB), but his strikeout rate has followed suit, to 5.8 per nine (86th). He is fifth in the league in innings, tying for the lead with three complete games.
"When you strike guys out, you waste a lot of pitches," Zimmermann said last month. "You try to make nasty pitches in the dirt, and if the hitters don't swing, you get them back in the count and you end up throwing six or seven pitches to a hitter. You look up and you are throwing 90 pitches by the fifth inning, you are not going to pitch very long."
Meanwhile, MLB's ERA leaderboard is stacked with breakout artists, from those taking advantage of their first full season as a starter (Tampa Bay's Alex Cobb, Arizona's Patrick Corbin, Seattle's Hisashi Iwakuma and Pittsburgh's Jeff Locke) to others with a little more seasoning (Atlanta's Mike Minor and the Cubs' Travis Wood).
Whether it took several years or only a couple, their time is now.
Andrew Simon is a reporter for MLB.com. Follow him on Twitter @HitTheCutoff. This story was not subject to the approval of Major League Baseball or its clubs.