Ninth-inning rally by D-backs sinks Dodgers
Ninth-inning rally by D-backs sinks Dodgers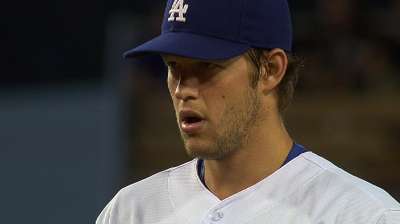 LOS ANGELES -- The best possible example of why the D-backs are a first-place team and the Dodgers are a last-place team was Monday night's game between the National League West rivals.
Seven innings of one-run ball from Clayton Kershaw, three-hit nights from rookie sensation Yasiel Puig, Mark Ellis and Jerry Hairston, and a two-run lead in the ninth inning, yet the Dodgers found a way to lose, 5-4, because that's what last-place teams do.
Puig, named NL Player of the Week earlier in the day, continued to rewrite the record book. He's the first Dodger with 16 hits in his first eight games, and the first with six multi-hit games out of eight. He's batting .500, but even he couldn't prevent this loss, as Arizona scored four runs in the top of the ninth.
"Not a good start [to the series]," said manager Don Mattingly, whose club was swept by Arizona in a May series at Dodger Stadium, has 10 losses in the past 12 games at home against the D-backs and is 1-6 against them this year. "It's a two-game swing every time you've got these guys in your face. Those are the ones that hurt. When it's the team you're chasing, it's painful."
Closer Brandon League couldn't protect the 3-1 lead, as the D-backs scored four runs in the top of the ninth inning and the Dodgers fell 8 1/2 games back, matching the largest deficit of the year.
League allowed four batters to reach base with one out and the last batter he faced, Willie Bloomquist, hit a bouncer up the middle that shortstop Nick Punto dived for and tried to swipe with his glove for a force at second base, but the ball dribbled away as the tying and go-ahead runs scored.
"It's the story of the year," said League, whose ERA is 6.00. "I get the first hitter, feeling pretty good and stuff just escalates, basically. Base hit, double. Just when you think ... bases loaded, get a ground ball and it's just inches away from being an out."
League was booed when removed and Mattingly was booed louder as he handed the ball to Peter Moylan, who allowed another RBI single to Paul Goldschmidt with what would prove to be the decisive run.
Mattingly wavered on whether League (who saved his three previous chances but has blown four overall this year) would remain the closer.
"Tonight the numbers said to go with Brandon," he said. "Does that mean keep the guy? I don't know. It's hard to make that decision 12 minutes after the game."
But he defended his decision to use Kenley Jansen in the eighth inning against Bloomquist, Goldschmidt and Cody Ross (Jansen retired all three) and use League for the bottom of the order. He pointed to the statistical matchups and said if the batting orders had come up the other way, he would have used League in the eighth and Jansen in the ninth.
"If you want to play sabermetrics, those were the best matchups," he said. "The guys Kenley got are the guys he gets out better than Brandon. The matchups should have been exactly the way it was. But if it doesn't work, it's a bad decision. We talked before the game, the eighth and ninth [innings] were up in the air depending who comes up.
"I understand people boo when it doesn't work out. It doesn't make the game any less painful. Look up the numbers. I know it was a solid decision. The fact a solid decision doesn't work, it's a bad decision. Brandon has done the job in the past. If he gets them out, nobody says anything. As soon as he doesn't get outs, it's my fault he doesn't."
No. 3 hitter Goldschmidt is 3-for-3 with a homer against League and 2-for-7 with a homer against Jansen. No. 6 hitter Martin Prado, who had the first hit in the ninth off League, is now 1-for-2 against him, but was 3-for-3 with two homers against Jansen.
Mattingly also insisted that Moylan, pitching for the third consecutive day, was sufficiently warmed up.
Of course, if the Dodgers' offense had tacked on a run or two earlier, it wouldn't have come to that. But with Hanley Ramirez sidelined for a fifth straight start, and Scott Van Slyke joining him on the training table, another makeshift batting order hit into four double plays and stranded six others in scoring position.
"We play them tough and they play us tough," Bloomquist said. "We've come out on top fortunately the last 16 out of 19, so we'll take it."
After Arizona batted around in the ninth to lead, 5-3, Juan Uribe led off the bottom of the inning with a homer and Tim Federowicz blooped a double. Skip Schumaker reached first base as the potential winning run when third baseman Prado booted his sacrifice bunt with Federowicz advancing third as the potential tying run and no outs. But Punto flied out to shallow left, Ellis struck out and Adrian Gonzalez grounded out to Arizona closer Heath Bell to end it.
The eighth inning was worse for the Dodgers, who loaded the bases with no outs and didn't score, although first-base fill-in umpire Clint Fagan played a part by calling Hairston out at first to complete a 5-2-3 double play when replays showed he was safe.
"I don't know how Clint missed that one," said Mattingly, who argued the call.
The Dodgers also had the bases loaded with one out in the fourth and Kershaw bounced into an inning-ending double play.
Kershaw struck out five with two walks. He was lifted for a pinch-hitter, leading 3-1 after making 99 pitches. Mattingly said he sensed that Kershaw had taken the team "as far as he could." Jansen pitched the eighth inning without incident.
"I was feeling fine," Kershaw said. "Donnie and I talked, and I think with my spot coming up in the order and with Kenley fresh and with [hitters] two, three, four coming up, there were a lot of factors, and it made sense for Kenley to get in the game there. I understood that."
Ken Gurnick is a reporter for MLB.com. This story was not subject to the approval of Major League Baseball or its clubs.