Blue Jays drop opener despite Bautista's big night
Blue Jays drop opener despite Bautista's big night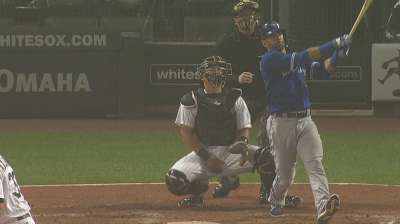 CHICAGO -- R.A. Dickey might not have known how his knuckleball would respond to being thrown through a thick fog before, but he does now, and the results aren't exactly pretty.
Toronto's No. 1 starter has been throwing the knuckleball since 2006, but on Monday night, he was confronted with something he had never encountered on the baseball diamond. A thick blanket of fog descended upon U.S. Cellular Field and it left his knuckleball flat and vulnerable.
Dickey's go-to pitch floated instead of dancing en route to seven runs in just five innings of work as the Blue Jays went on to lose, 10-6, against the White Sox in a game that was delayed for more than an hour because of heavy fog.
"For me, it's just the dampness, the moisture," Dickey said of his issues with the conditions. "The knuckleballs were leaving my hand good but just not doing anything at the plate. That was probably the biggest difficulty, I felt fine, it's just that the ball wasn't breaking."
The conditions during the first inning were almost perfect, but it didn't take long for the weather to change. Dickey got through the first inning unscathed, but as the fog began to roll in during the second, he was left searching for answers.
The problems started almost right away as he loaded the bases with just one out before allowing a sacrifice fly to Hector Gimenez and a two-run single to Alejandro De Aza. The struggles continued in the third as he surrendered a solo home run to Adam Dunn before the weather started to deteriorate even more.
The fog had become so severe that Dickey couldn't even see Jose Bautista standing in right field. All four umpires converged and had a lengthy conversation with Dickey and Blue Jays catcher Josh Thole before deciding to put the game on hold.
"He just wanted to let me know what they were thinking about doing and how long could I sit before I was able to come back out," Dickey said of crew chief umpire Jim Joyce. "I told him it wasn't as big of an issue for me because of the style of pitching I perform. He called everybody off at that point."
When the fog finally lifted enough to resume play, Dickey was handed the ball once again, but his struggles continued. In the fourth, he had runners on first and second with two outs when Dunn struck again. This time it was a three-run shot that put the White Sox in front by two and marked the 36th multi-homer game of Dunn's career.
Dickey was charged with seven runs on 10 hits while walking one and hitting two batters. He failed to record a strikeout for the first time this season and he has now surrendered at least six runs in three of his past four outings.
If the outing wasn't frustrating enough, it came against a team that Dickey dominated earlier this season and one that has been struggling to score runs all year. Dickey previously threw six scoreless innings against Chicago in late April, but the results were drastically different this time around.
"Dickey threw so well against us at their place," said Dunn, who matched his career high with five hits. "When their knuckleball is right there's nothing you can do about it. Hopefully he makes a mistake and tonight he made a few."
The Blue Jays got on the scoreboard early in the first inning when Bautista hit a two-run shot off right-hander Dylan Axelrod. In the fifth, Bautista struck again, but this time it was a three-run homer to give Toronto's slugger his third multi-home run game of the season and 20th of his career.
That momentarily gave the Blue Jays a one-run lead, but Dickey went on to cough it up in the bottom of the fourth. Colby Rasmus came back an inning later with a leadoff homer to bring the Blue Jays back to within one. All six runs were charged to Axelrod, who allowed eight hits and four walks while striking out just one.
There were plenty of other opportunities to score, but the Blue Jays were unable to come through. They had the bases loaded in the seventh with two outs, and in the eighth had runners on second and third with one out, but both times came away empty-handed and the White Sox went on to break the game open in the eighth.
"I've been seeing the ball better in the last couple of days and I took advantage of some pitches that were right over the heart of the plate," Bautista said. "I was ready for fastballs over the plate, and I got them and was able to take advantage, and I didn't foul them off. There were some other at-bats where I still got some pitches to hit and I didn't square them up, and that's the difference in the result."
Dickey's subpar outing marked the first time in 27 starts that he went on to lose a game in which he was staked to a two-run advantage. That was by far the longest active streak in the Major Leagues, with Texas' Alexi Ogando formerly in second place with a streak of 11.
It's also the most disappointing part of a rather unfortunate night for the 2012 National League Cy Young Award winner.
"That's a game we should have won," Dickey said. "Take the lead, I go right back out there and they hit a three-run homer with two outs. It's tough, it's sad."
Gregor Chisholm is a reporter for MLB.com. Read his blog, North of the Border, and follow him on Twitter @gregorMLB. This story was not subject to the approval of Major League Baseball or its clubs.