Brewer called up, excited to join hometown club
Brewer called up, excited to join hometown club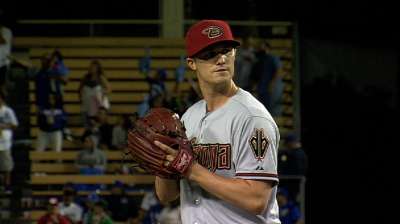 LOS ANGELES -- Charles Brewer was eating sushi Sunday night in Reno, Nev., when his cellphone rang.
It was his Triple-A manager Brett Butler and his message was short and sweet.
"He just said, 'Son, it's Bugsy, you're going up to the big leagues,'" Brewer said. "I wasn't too hungry after that. I was busy making some phone calls to the family and whatnot. I got a couple of sushi rolls to go, though."
With an overtaxed bullpen, the D-backs decided to add a reliever, so they promoted Brewer and optioned left-hander Tyler Skaggs to Reno.
"We had to freshen up a little bit," D-backs manager Kirk Gibson said of his bullpen.
Brewer, who was 3-6 with a 5.85 ERA in 12 starts for Reno, will pitch out of the bullpen for now. The team will skip Skaggs' turn in the rotation, so it will not need another starter until June 18. Josh Collmenter and Brewer are candidates for the start as well as possibly Randall Delgado, who is in Reno.
Regardless of how long his stay is, Brewer will cherish it. A native of Scottsdale, Ariz., Brewer grew up a fan of the D-backs.
"Ever since I was a 12-year-old kid in 1998 when the team first became a franchise, I was at that ballpark," Brewer said. "We had season tickets every single year when I was growing up. I made it to all seven World Series games in 2001, so it's a huge deal for me to be here with the team and put on that same uniform I've always seen from the stands growing up."
Steve Gilbert is a reporter for MLB.com. Read his blog, Inside the D-backs, and follow him on Twitter @SteveGilbertMLB. This story was not subject to the approval of Major League Baseball or its clubs.