Polanco listed as day to day with back stiffness
Polanco listed as day to day with back stiffness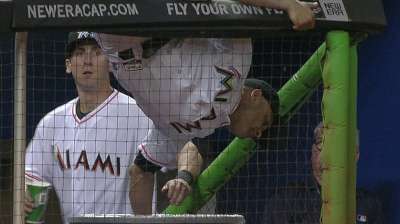 MIAMI -- Placido Polanco left the Marlins' game against the Brewers on Monday with lower back stiffness. He is listed as day to day.
Ed Lucas entered the game during the bottom of the sixth to pinch-hit for Polanco, who may have suffered the injury while leaning over Miami's dugout railing in pursuit of a popup off the bat of Carlos Gomez in the top of the fifth.
Polanco nearly tumbled over the railing, but Lucas and catchers Miguel Olivo and Rob Brantly ran over to keep the 17-year veteran from falling.
"He didn't tell me," Miami manager Mike Redmond said of the extent of Polanco's injury. "He just said his back had tightened up on him, so we had to get him out of there. I don't know if it was on the railing or what."
The third baseman has been dealing with back issues since last season, playing only 90 games with the Phillies. He was also briefly sidelined in early March during Spring Training.
Polanco is batting .227 with seven RBIs and 19 runs in 207 at-bats. He has committed only one error in 52 games for a fielding percentage of .991.
Christina De Nicola is a contributor to MLB.com. Joe Morgan is an associate reporter for MLB.com. This story was not subject to the approval of Major League Baseball or its clubs.