Shoppach starts again with catching depth thin
Shoppach starts again with catching depth thin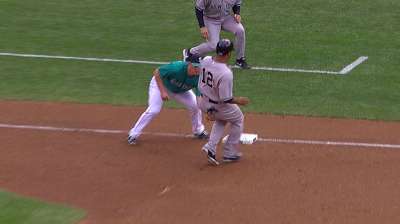 SEATTLE -- Kelly Shoppach was again in the lineup Monday for the Mariners' series opener against the Astros as Eric Wedge continued rolling primarily with the veteran catcher in his short-handed backstop situation.
Since Jesus Sucre injured his hand last Tuesday, Shoppach has caught 45 of the team's 52 innings, including all of Wednesday's 16-inning marathon, with rookie Brandon Bantz starting once and catching the first seven innings Saturday.
Shoppach, 33, has already caught 33 games and had 101 at-bats through this season's 64 games after averaging 199 at-bats over the past three years.
"Every game is a challenge," said Shoppach. "But physically, I've felt great. No more than normal dings and bumps a catcher would have at any time. I credit my strength and conditioning in the offseason. Even though, coming into each season, I know I'm not going to be an everyday guy, we train as if I'm going to be in case that comes up, then I'll be able to do it.
"A lot of guys mentally have the ability to catch every day, but if your body won't stay where your mind needs it to be, you won't be the player you should be. So we train the body just in case."
Shoppach enters Monday's opener hitting only .198, but knows that isn't the critical part of his game at the moment.
"The most important thing for me is to stay on point defensively," he said. "That's mainly where my value lies and why I'm able to continue to get jobs, I think. That's the one thing you can control, your effort and how you perform defensively. Your offense is going to have ups and downs, and you try to limit your bad stretches, but defensively, we're involved in every play. We're right there with the pitcher on every play. You have to stay strong."
Greg Johns is a reporter for MLB.com. Follow him on Twitter @GregJohnsMLB as well as his Mariners Musings blog. This story was not subject to the approval of Major League Baseball or its clubs.