Gyorko put on disabled list; Forsythe activated
Gyorko put on disabled list; Forsythe activated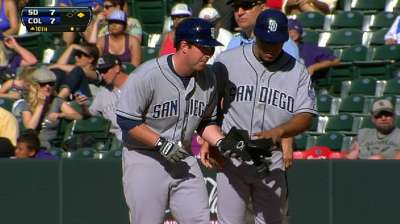 SAN DIEGO -- Jedd Gyorko walked to his locker before Monday's game with his right leg heavily bandaged, and at the time, he wasn't sure if he had officially been put on the disabled list. But he knew he wasn't going to be able to play any time soon.
"You won't have to look at me hobble around the field," Gyorko said with a laugh.
The Padres did place their rookie second baseman on the 15-day disabled list with a groin strain. Gyorko injured himself running the bases in the 10th inning on Sunday in Colorado.
"We're hoping that when the 15 days is up he'll be ready. We're not sure though, but we're hoping," Padres manager Bud Black said. "Medically, we felt as this was not going to resolve itself in the next week."
This is the first time Gyorko has had to deal with this type of injury. Gyorko thought it was a cramp initially, but it kept getting worse.
The Padres are losing one of their hottest hitters. Gyorko is hitting .284 and leading all Major League rookies with 66 hits, and is tied for the team lead in home runs, with eight, and has a team-leading 25 RBIs.
"Yeah, it's tough," Gyorko said. "Obviously you want to be out there, especially when you're playing well, but its a part of it and you've just got to put the time in and make sure it's 100 percent."
The Padres activated Logan Forsythe from the 60-day disabled list, and placed him in the starting lineup on Monday, hitting seventh and playing second base. He made his impression felt quickly, hitting a solo homer in his first at-bat, a 445-foot shot to center. He also singled (but was picked off first), walked and score the eventual game-winning run in a 7-6 victory over the Braves.
He had missed the entire season thus far with right plantar fasciitis, but Black said Forsythe is running well and hasn't had any discomfort.
"It feels good to be back up here with the team," Forsythe said. "Foot's been feeling good, pretty close to a hundred percent. No setbacks."
Black commended his team's depth, as the Padres have had to deal with injuries to a lot of their hitters all season -- including center fielder Cameron Maybin, third baseman Chase Headley, first baseman Yonder Alonso and now Gyorko.
"When you look at our roster, the versatility that we have and the depth of the group that we had in Spring Training, we felt good about our situation if we had an injury or two," Black said.
Forsythe appeared in eight games during a rehab stint with Triple-A Tucson, and was 9-for-25 (.360) with two homers and eight walks. He also had some at-bats in extended spring training, but his activation likely would not have come this soon if Gyorko hadn't been injured.
"Ideally it might have been best if he stayed down for a few more [games] to get some more at-bats and really get in the flow of it," Black said.
"But, by necessity, he's here."
Jamal Collier is an associate reporter for MLB.com. This story was not subject to the approval of Major League Baseball or its clubs.