Hanley, Kemp continue to rest ailing hamstrings
Hanley, Kemp continue to rest ailing hamstrings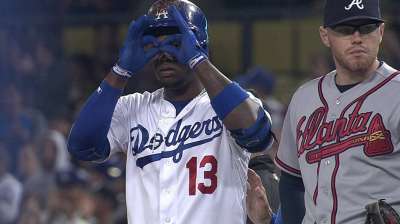 LOS ANGELES -- Hanley Ramirez was out of the lineup for a fifth straight game on Monday and might not start until Friday as the Dodgers hope to keep the shortstop from aggravating a troublesome left hamstring.
Ramirez had an MRI exam on his ailing hamstring Sunday, but the Dodgers said it did not show any damage. Ramirez missed 28 games with a strained left hamstring before he was activated on Tuesday. He played two games at shortstop but has not started since Wednesday.
"It's just a little fluid from my hamstring going down behind my knee," Ramirez said before Monday's series opener against the D-backs. "It's right behind my knee. The hamstring is good. I just have to get the swelling to go down."
Ramirez predicted he would be back in the lineup in two days.
"We're learning not to listen to Hanley," said Dodgers manager Don Mattingly, half-joking. "He's getting better. We want him to completely get better."
Mattingly said he would try to avoid using Ramirez as a pinch-hitter on Monday.
The Dodgers recalled infielder Justin Sellers from Triple-A Albuquerque on Monday to give Mattingly another option to help fill the void until Ramirez is ready.
"We're feeling like if we can buy a little time, Hanley is going to be back without having to go on the DL again," the manager said. "This is not another 15 days. It may be four or five."
Matt Kemp, meanwhile, is dealing with a hamstring issue of his own. The outfielder tested his strained right hamstring on Sunday but felt discomfort as he increased the intensity of his workout at Dodger Stadium.
"As they really started pushing to the red line he felt a little something, so it tells us we're really close with him," Mattingly said. "It's just going to take another couple of days."
Kemp will rehab with the club through the end of a homestand that ends Wednesday. After that, Kemp will likely go on a Minor League rehab assignment, though the club did not specify where or for how long. The Dodgers hope to have Kemp back at some point next week.
Ken Gurnick is a reporter for MLB.com. Austin Laymance is an associate reporter for MLB.com. This story was not subject to the approval of Major League Baseball or its clubs.