New-look lineup scuffles behind uneven Nolasco
New-look lineup scuffles behind uneven Nolasco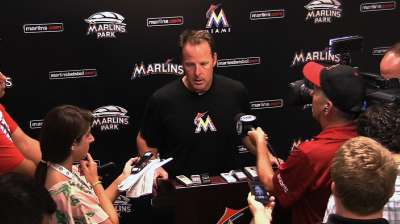 MIAMI -- A few hours before Monday night's series opener against the Brewers, the Marlins felt a little more whole as a team.
A day after Logan Morrison's return, slugger Giancarlo Stanton took the field for a big league game for the first time since injuring his right hamstring April 29. They hadn't played together since last July.
Yet their presence couldn't help the Marlins overcome an early four-run deficit in a 6-1 loss in front of 13,259 at Marlins Park.
Miami mustered just four singles off right-hander Yovani Gallardo (5-6) over his eight scoreless innings, while right-hander Ricky Nolasco (3-7) struggled from the outset.
"We got down early," Marlins manager Mike Redmond said. "Ricky came out and just looked like he just was a little uncomfortable and just a little bit out of the strike zone.
The middle of order -- Stanton, Marcell Ozuna and Morrison -- went a combined 1-for-9 with one single, one walk and three strikeouts.
Despite the result, Stanton enjoyed being back in the Majors after missing 36 games because of the injury.
"It was miserable not being able to play, so I was happy I was out there," said Stanton, who finished 1-for-4.
Gallardo cruised through the first two frames, issuing just a one-out walk to Morrison. The Marlins fell victim to inning-ending double plays in three of the next four frames.
Nolasco and Juan Pierre collected back-to-back one-out singles in the third, but Placido Polanco grounded into a double play. Morrison grounded into a double play the following inning. In the sixth, Rickie Weeks snared pinch-hitter Ed Lucas' liner in shallow center and threw to second for another out.
"I think any time you go eight innings, it's a good day," said Gallardo, who struck out four and walked one. "The defense behind me did a great job. They turned some double plays when I got in trouble. It was an all-around win."
Nolasco, meanwhile, allowed a season-high 10 hits over just 5 1/3 innings, giving up four runs. He did not convert a 1-2-3 frame.
It marked the fourth time this season that he pitched fewer than six innings, snapping his streak of four straight quality starts. Over his previous 13 starts, Nolasco had given up four or more runs three times.
"Just battling the delivery the whole day," said Nolasco, who last won on May 19. "Just trying to go out there and grind as long as I could."
Milwaukee scored two first-inning runs on four hits, forcing Nolasco to throw 33 pitches -- 17 for strikes. He avoided further damage by striking out Juan Francisco with the bases loaded.
Norichika Aoki, who reached base four times, led off the game with a double to right and scored on Carlos Gomez's one-out RBI single to left. Gomez, who advanced to second on Pierre's throw home, moved to third when Rob Brantly's throw sailed into the outfield.
After Aramis Ramirez flied out to shallow right, Jonathan Lucroy produced an RBI single up the middle. Logan Schafer walked and Weeks reached on an infield hit before Francisco's strikeout.
"We threw the ball around a little bit there in the first," Redmond said. "Didn't help [Nolasco] out."
The Brewers collected another two-out run in the second on Gomez's RBI single up the middle, driving in Aoki, who had singled to right with one out.
Nolasco surrendered a solo shot to Weeks -- his fifth of the season -- on a 1-1 pitch with two outs in the third, as Milwaukee extended its lead to 4-0.
Right-hander Ryan Webb couldn't keep the Brewers off the board in the seventh.
Lucroy's third single of the night -- with one out -- brought in Gomez, who tripled to start the inning. Following back-to-back singles by Schafer and Weeks, Francisco produced a sacrifice fly to center.
Left-handers Edgar Olmos and Dan Jennings pitched scoreless innings of relief in the eighth and ninth, respectively, for Miami.
The Marlins avoided being shut out for the 10th time this season on Lucas' RBI groundout to third that scored Pierre, who tripled to right-center off right-hander Donovan Hand with one out in the ninth.
Miami, which dropped to 2-10 this season against National League Central teams, was outhit, 16-5.
"It's nice to get those guys back, and hopefully things start turning around," Nolasco said. "Guys have been banged up a little bit. Got to remember those guys have been out for a while. Big league pitching's tough, so we can't just expect to score 10 runs every game."
Christina De Nicola is a contributor to MLB.com. This story was not subject to the approval of Major League Baseball or its clubs.