Shields won't face former team when Royals visit
Shields won't face former team when Royals visit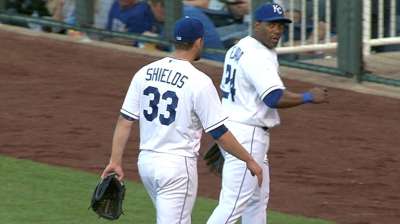 ST. PETERSBURG -- James Shields will be returning to Tropicana Field this weekend for the first time since being traded to the Royals, but he won't be pitching in the four-game series that begins Thursday.
"Yeah, I'm a little disappointed," said Shields on Monday during a telephone interview. "It would have been nice to pitch."
Shields will start for the Royals against the Tigers on Wednesday, and he'll be opposed by Justin Verlander.
Shields started 217 games in seven seasons with the Rays, posting an 87-73 record with a 3.89 ERA. He went 47-31 with a 3.34 ERA in 110 starts at Tropicana Field.
"I'm glad to go back to the old roots, see the Trop for four days and hang out," Shields said. "Talk to fans, all the good stuff."
Shields is 2-6 with a 2.81 ERA, including a win over the Rays on April 30 in Kansas City.
"I've been pitching well," Shields said. "Unfortunately my record is 2-6, but we're starting to string together some wins right now."
Shields faced former teammate Carlos Pena over the weekend when the Royals played the Astros, which felt a little odd, as did facing the Rays earlier this season.
"It's definitely weird to face guys that you've played with for years," Shields said. "Once you get on the mound, though, you kind of just block it out. After you face them one time, the next time you don't think about it."
When asked about what he most looked forward to during his reunion at Tropicana Field, Shields again spoke of Rays fans.
"Just interacting with the fans," Shields said. "It's always good to see friends. ... It's going to be a good little trip."
The weekend series with the Royals will be the only meeting between the Rays and Royals at Tropicana Field this season, but there will be one final game between the teams when the May 2 game is made up. So the possibility exists that Shields will make one more start against his former team. When that was pointed out to Shields, he replied: "Yeah, but it won't be in [St. Petersburg]."
Bill Chastain is a reporter for MLB.com. Adam Berry is a reporter for MLB.com. This story was not subject to the approval of Major League Baseball or its clubs.