Lobaton starting to heat up offensively
Lobaton starting to heat up offensively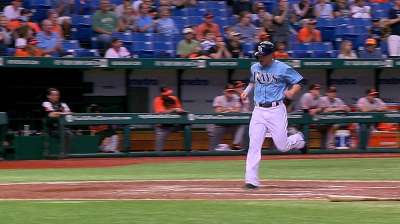 ST. PETERSBURG -- When Jose Lobaton made the team out of Spring Training, many thought that Chris Gimenez should have earned the second catcher's spot, but he did not because he had options and Lobaton did not.
Lobaton is now playing like the Rays thought he could when they selected him off waivers from the Padres on July 30, 2009. Entering Monday night's game against the Red Sox, he was hitting .294 with two home runs and 13 RBIs. In addition, Lobaton has played solid defense; he has thrown out the last three attempted basestealers.
Manager Joe Maddon gave all the credit to executive vice president of baseball operations Andrew Friedman and the Rays' scouting department.
"Because they had all the faith in the world that he would be looking like this," Maddon said. "When we got him a couple of years ago, everybody kept talking about ball-off-the-bat velocity. He's been doing that more consistently now. They talked about his throwing. They talked about overall defensive ability.
"The difference now is he believes that he belongs here, that's the major difference. But otherwise, I really believe you have to say that's great scouting on our part."
Maddon was asked if Lobaton will start to see increased playing time over veteran Jose Molina.
"To this point, I've been doing it primarily based on the other team's pitcher," Maddon said. "I think it's wise to continue along that same thought, because he's been successful to this point. To think that just by playing him more he's going to continue to be as successful, I'm not sure of that. We've been picking and choosing our spots with him.
"Ja-Mo is going to continue to keep catching, also, probably look for spots for Lobo a little more, maybe, but not necessarily auger it out. But just keep going the way we've been going to this point, because it's been successful."
Bill Chastain is a reporter for MLB.com. Adam Berry is a reporter for MLB.com. This story was not subject to the approval of Major League Baseball or its clubs.