Crain's stellar season has him in All-Star mix
Crain's stellar season has him in All-Star mix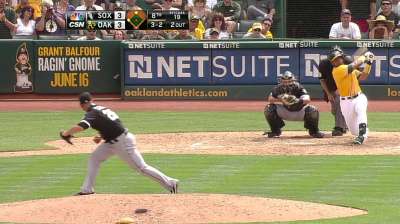 CHICAGO -- Jesse Crain only needs to look to his left in the White Sox clubhouse to quickly realize that setup men do in fact get selected for All-Star Game participation.
In 2010, Matt Thornton was picked from the White Sox after a first half in which he had 12 holds, five saves, a 2.70 ERA and 49 strikeouts in 36 2/3 innings. The southpaw is one of several setup All-Stars in recent years, including David Robertson ('11), Mike Stanton ('01) and Carlos Marmol ('08).
Crain certainly has thought about joining that group in 2013, albeit a brief thought.
"For sure it would be a great honor," said Crain, working in his 10th big league season. "I know it's hard in the position I've been in -- middle relief, setup guy. It's hard to get in there. I've put a little thought into it but I don't want to think about it too much and get disappointed.
"I go in not expecting anything. It would probably be a once in a lifetime thing especially in the position that I'm in, but that's out of my control."
Entering Monday's series opener against the Blue Jays, Crain had made a career-high 25 consecutive scoreless appearances covering 24 innings pitched. It's the second-longest scoreless games streak in White Sox history behind 27 from J.J. Putz in 2010, and Crain's 0.63 ERA stands second among Major League relievers behind Colorado's Rex Brothers (0.31). His WAR checks in at 2.1, placing him tied for ninth among American League pitchers overall in that category.
The White Sox figure to get their All-Star representative or representatives from the pitching side, with starter Chris Sale and closer Addison Reed also deserving. But it could be hard for the players and/or AL manager Jim Leyland to overlook Crain, even though the White Sox haven't faced Leyland's Tigers this season.
"Sometimes with the players voting, sometimes you kind of just go through it and maybe not think of everybody that might be deserving of it," Crain said. "Sometimes it's filled out just quick and here you go. That could leave some people out. Hopefully it's something that people take some time and think about it and we'll see what happens. I can't deny it would be an honor to be there."
"He has come in for some tough situations, and it just seems like he's getting it done. If he doesn't, you'd be shocked," said White Sox manager Robin Ventura, giving his All-Star support to Crain. "Whether you're a closer or not, I know you don't get the actual save next to your name, but if there's anybody in the league that deserves it, he's been a guy that deserves something. It's a save in our book."
Scott Merkin is a reporter for MLB.com. Read his blog, Merk's Works, and follow him on Twitter @scottmerkin. This story was not subject to the approval of Major League Baseball or its clubs.