Braun trying to avoid DL, likely out for Marlins series
Braun trying to avoid DL, likely out for Marlins series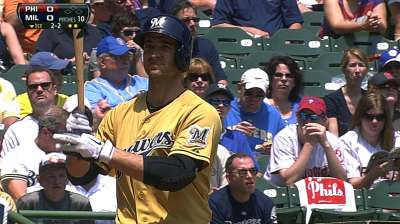 MIAMI -- Ryan Braun was not among the nine names Brewers manager Ron Roenicke wrote on Monday's lineup card.
Braun, who left Sunday's game against the Phillies in the bottom of the third inning, will rest his sore right thumb on Monday while his teammates face the Marlins. With an off-day scheduled for Thursday, there is a chance the All-Star outfielder will not start any of the three games in Miami.
"We'll go day to day and see how he's doing," Roenicke said. "He's going to play some catch, but he's not going to take BP today. He's available if we have to use him. Then it becomes a decision of whether I think the at-bat has a chance to set him back and how important the at-bat is."
Braun has battled pain in his right hand for about a month. Though he does not remember the exact day it began hurting, he does recall that it came on a swing. When it originally happened, Braun says his hand was numb for about a week before he regained feeling."
"It's not just my thumb, it's my hand," Braun said. "There's a nerve and a ligament in my hand that is an issue. The majority of it is between the index finger and my thumb."
The 29-year-old has made several adjustments to try and play through the pain, but has not had the results he would like.
"I've dealt with it and tried to fight through it," Braun said. "A couple times it has gotten a little better, but it's so easy to irritate and aggravate. Every time I swing, there is a high likelihood that I am going to continue to irritate it. It's just a matter of getting it close to the point where it's close to healthy."
Braun feels he has been "swinging with close to one hand at 60 or 70 percent for the last month." He has hit .289 over the past 26 games, but has homered just once and driven in only 10 runs in that span.
"I've tried to change the way I hold the bat and tried to change my bat path," Braun said. "I've tried to do a lot of different things to compensate for the pain and get it to the point where it doesn't hurt when I swing, but I haven't been successful doing it. We're at the point where I need to get back close to being healthy, so I can take a regular swing and hold the bat the way I regularly do."
While Braun could miss the entire Marlins series, he and Roenicke both hope the star outfielder will be able to avoid a trip to the disabled list.
"We'll wait and see what happens," Roenicke said. "We haven't talked about doing that yet. Hopefully it won't come to that."
David Villavicencio is a contributor to MLB.com. This story was not subject to the approval of Major League Baseball or its clubs.