Narveson's rehab progressing; Burgos scratched
Narveson's rehab progressing; Burgos scratched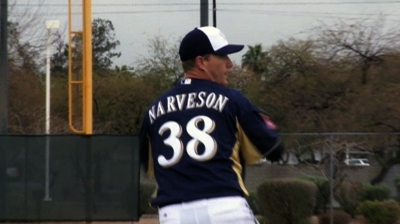 MIAMI -- The Brewers have several players working back from injury, and some are closer to a return than others.
Chris Narveson made his third rehab start for Triple-A Nashville Sunday, allowing three runs on five hits over 4 1/3 innings. He struck out four and did not walk a batter while throwing 63 pitches.
The left-hander is slated to make four rehab starts before the Brewers consider activating him from the disabled list. Narveson is stretching out like a starter, but Roenicke is not sure what his role will be once he is ready to return to the big leagues.
"We're going to have to look at it when the time comes," Brewers manager Ron Roenicke said.
Hiram Burgos is working back from a right shoulder impingement. The right-hander was scheduled to make a rehab start Monday with Class A Wisconsin, but he felt some stiffness in his shoulder recently and had his rehab start pushed back.
"He's playing catch today and is supposed to have a bullpen tomorrow, then we will re-evaluate," Roenicke said. "Hopefully, he is good and we can get him pitching in games."
Corey Hart, who has been out all season recovering from knee surgery, traveled with the Brewers to Miami. The first baseman is still not close to a rehab assignment, but Roenicke has seen progress lately.
"We're still a ways away, but he's here, so he can get all the work he needs as far as running bases and taking some ground balls," Roenicke said. "He is moving better but it's a slow process."
David Villavicencio is a contributor to MLB.com. This story was not subject to the approval of Major League Baseball or its clubs.