Reds sign first-rounder Ervin for slot value
Reds sign first-rounder Ervin for slot value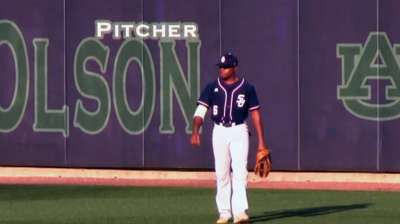 CHICAGO -- The Reds wasted little time in signing first-round Draft pick Phillip Ervin.
Ervin, an outfielder out of Samford University, was picked 27th overall Thursday in the first round of the First-Year Player Draft. According to a source, he received the exact pick value of $1,812,500. The Reds have a bonus pool sum of just more than $6 million to play with to sign all players chosen in the first 10 rounds.
Ervin is the first outfielder Cincinnati has drafted in the first round since Drew Stubbs in 2006. The 20-year-old recently completed his junior year at Samford, where he was an All-Southern Conference selection for the second straight season. He hit .337 with 11 homers, 40 RBIs, 58 runs scored and 21 stolen bases in 23 attempts.
Ervin was a preseason All-American and the Southern Conference Preseason Player of the Year.
"He's a very complete player," Reds senior director of scouting Chris Buckley said. "We've been following Phillip since last summer up to Cape Cod League. He's what we call a five-tool player, has a chance to be a complete player and another guy who plays in the middle of the field."
Ervin is Samford's first player to be drafted in the first round of the Draft, and the highest Draft pick in the school's history in any sport. After just three seasons for the Bulldogs, Ervin ranks in the school's top 10 in hits (230), hitting (.344), runs scored (157) and doubles (47).
Joey Nowak is a reporter for MLB.com. Follow him on Twitter at @joeynowak. This story was not subject to the approval of Major League Baseball or its clubs.