Indians can't hold lead in loss to Rangers
Indians can't hold lead in loss to Rangers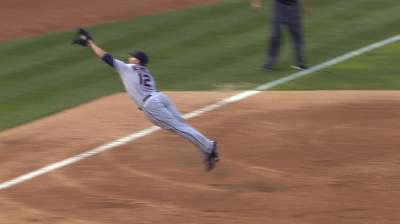 ARLINGTON -- The Indians headed into this road trip with their chests puffed out, feeling like a team on the cusp of something special. After the past week of baseball, Cleveland is now gasping for air.
It was more of the same on Monday night for the reeling Tribe.
Left-hander Scott Kazmir gave the Indians a decent outing, but if it's not one thing, it's another right now for Cleveland. In this 6-3 loss to Texas at Rangers Ballpark, the letdown came in the form of a lack of offense and an off night for the bullpen, which spotted the Rangers three runs in the decisive seventh inning.
The end result was an eighth consecutive defeat for Cleveland, which has two games remaining on this winless, nine-game slog through New York, Detroit and Texas.
"We're struggling. We are," Kazmir said. "It's just little things that cost us a game. It could be a pitch. It could be defensively, offensively. It just seems like there's something so small that determines the outcome of the game, especially the past couple, or the past three or four. We've been in every game.
"We've battled out there, but stuff's not going our way. By any means, we're not losing confidence at all. It's just one of those things where we have to battle our way out of it.
This eight-game slump marks the longest losing streak for the Indians since the club dropped nine in a row in August last year. Cleveland also suffered through an 11-game slide last August, when the team compiled a 5-24 and saw a once promising season officially derailed.
The only good news for the Indians is that there are still more than three months to right the wrongs of the past three weeks.
"We've just got to keep playing," Indians third baseman Mark Reynolds said. "I know it's cliche or whatever, but it's a long season. Hopefully, in a month or two we can look back on this and laugh at it. We're having our tough stretch. Trust me, it's tough on everyone in here and it's very frustrating. We've just got to find a way to win one game and build on that."
The Indians have not only lost eight straight, slipping to just 1-8 this month, but the team has lost 16 of its past 20 games. Prior to that stretch, the Indians ripped off 18 wins in a 22-game span to run to the top of the American League Central. The club was firing on all cylinders throughout that successful run, but has seen different aspects of the roster fall short in the games that have followed.
What is the secret to turning things around?
"Work hard and grind," Indians manager Terry Francona said. "Because there isn't a magic potion."
In the seventh inning on Monday, Jurickson Profar drove a pitch from Kazmir to deep right field, the ball sailing just beyond the outstretched glove of Nick Swisher. Elvis Andrus followed with a single that first baseman Carlos Santana deflected with his glove. With no outs and runners on the corners for David Murphy, Francona opted to put the ball in the hand of lefty Nick Hagadone.
Hagadone appeared on the verge of an escape act when he induced a grounder from Murphy. Santana gloved the ball and stepped on first base for one out and then, following a brief rundown involving Andrus between first and second, fired the ball across the diamond to Reynolds. Profar dove back to the third-base bag, but was tagged by Reynolds for the second out.
"The way it unfolded," Francona said, "man, it looked like, 'We're going to get out of this with nothing.'"
Any momentum Cleveland thought it had swiftly disappeared.
Veteran Lance Berkman, playing in his 15th season and mired in a bit of a slump, drilled a 1-0 offering from Hagadone deep to left for a two-run home run that gave the Rangers a 5-3 lead. Tribe right-hander Cody Allen entered and issued a walk to Adrian Beltre before giving up a run-scoring double to Nelson Cruz.
It was a late outburst that tainted an otherwise admirable effort from Kazmir.
Squaring off against Texas right-hander Josh Lindblom -- who went six innings, allowing three runs with six strikeouts -- Kazmir gave the Indians six innings and was charged with four runs on eight hits, ending with five strikeouts and two walks. The lefty surrendered an RBI single to Craig Gentry in the second inning and later yielded a two-run home run to Jeff Baker in the fourth.
All the Indians offered Kazmir in the way of support came in the third inning, when Santana split the gap in right-center field, sending a pitch from Lindblom just out of reach of Cruz. The baseball dropped in and gave Santana a bases-loaded double that scored three pushed the Indians in front, 3-1.
"I just feel bad we couldn't get [Kazmir] any more runs," Reynolds said. "He deserves a lot better than tonight. He knows we're out there busting our tails for him and we're trying. Hopefully, we can snap out of this."
Francona believes the Indians will eventually be better for this tough stretch of games.
"We're going to find out a lot about ourselves right now," Francona said. "I guess that's part of why I feel OK about this, because I think we have the guys in there that will fight through this and come through it. And it's not easy, and it's not a lot of fun. But I believe in those guys in that room and I believe in us collectively. We'll figure out a way to fight through it."
Jordan Bastian is a reporter for MLB.com. Read his blog, Major League Bastian, and follow him on Twitter @MLBastian. This story was not subject to the approval of Major League Baseball or its clubs.