Grand slam dooms Feldman in foggy opener with Reds
Grand slam dooms Feldman in foggy opener with Reds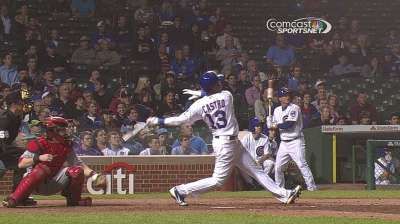 CHICAGO -- Heavy fog at Wrigley Field made it nearly impossible to see early in the Cubs' game against the Reds Monday night, but Brandon Phillips had no trouble at all.
Phillips belted his fifth career grand slam and drove in two more runs to notch six RBIs, matching his career high, and power the Reds to a 6-2 victory over the Cubs on a weird night on the North Side of Chicago.
The ballpark was blanketed by fog at the start of the game, and it seemed to float in off Lake Michigan in waves.
"It was unbelievable, the first at-bat was hard," Cubs shortstop Starlin Castro said. "When I went up for the first at-bat, I saw the ball at the last moment. Everybody said the same. You could only see a little bit of white coming to home plate. It wasn't easy."
Cubs starter Scott Feldman was raised in San Mateo, Calif., and is very familiar with fog.
"It was surprising to see it out here," Feldman said. "I was hoping it would make it harder for them to pick up the ball, but apparently it didn't work."
Cubs manager Dale Sveum also hails from Northern California and has had his share of foggy days.
"You used to see it at Candlestick Park and Oakland," Sveum said. "Obviously, it couldn't get any worse, otherwise you would've had to stop. It was borderline as it was. Growing up, I saw it plenty."
Cubs third baseman Luis Valbuena dropped a popup by Zack Cozart in the first, although that seemed to be more due to miscommunication than poor visibility. Shin-Soo Choo was on first when Cozart popped up, and Valbuena recovered in time to throw him out at second. Cozart moved up on Joey Votto's groundout and he scored on Phillips' single.
After the second, the Reds' outfielders talked to the umpires as they came off the field about the conditions. The umpires then conferred among themselves, but there was no stoppage of play. Meanwhile, the White Sox game against the Blue Jays eight miles south at U.S. Cellular Field was delayed more than an hour due to the fog.
Cincinnati had no problem loading the bases in the third against Feldman as Homer Bailey, Cozart and Votto each singled to set up Phillips' slam. It was Phillips' 10th home run of the season.
"I hung a couple pitches to start off the third," Feldman said. "I hung a curveball to Bailey and he was able to get a single, and they got a couple guys on, and I hung the big one there to Brandon Phillips."
Phillips could see just fine.
"For me to hit the ball the way I did today, I think the fog wasn't [there] when I was up to bat," Phillips said. "Maybe it was when everyone else was up to bat."
This was only Feldman's second loss and second non-quality start in his last nine starts. He allowed five runs on seven hits over six innings and is now 0-2 against the Reds.
"If he gets a ground ball -- you could say that a lot of times -- if it was a ground ball [by Phillips], he would've ended up pitching a good game," Sveum said of the right-hander and the third inning. "There wasn't a whole lot of hard contact besides Phillips' jam shot to right [in the first] and he hit the grand slam nice. Other than that, he pitched pretty darn good."
Center fielder Choo did seem to lose Feldman's single in the fog in the third, but the Cubs were unable to take advantage. They're batting .111 with runners in scoring position in the first four games of this homestand.
"Feldman hit his ball good and Choo had no idea where it was," Sveum said. "I think if there had been a few more high balls in the gaps at that time, it would've been pretty tough to see.
"At the time, we were getting through it, so we didn't want them to call it when we were hitting."
Phillips also contributed to the Cubs' first run. Valbuena doubled to open the sixth and scored two outs later on a throwing error by the Reds' second baseman, who scooped up Nate Schierholtz's single, but made an errant throw to first.
Moved to the cleanup spot after an Opening Day injury to Ryan Ludwick, Phillips added another RBI in the eighth with a groundout. He now has 52 RBIs, which ranks among the National League leaders.
Castro drove in the Cubs' second run of the night with an RBI double in the ninth, snapping an 0-for-15 skid.
"We lost Castro's ball. I don't know where it went," Reds manager Dusty Baker said. "Thought it might have been a homer."
Bailey gave the Reds just what they needed after an extra-inning Sunday night game, going eight innings. The Reds' bullpen was shorthanded and Baker, who managed the Cubs for four seasons, knows only too well about Wrigley Field's quirks.
"Something always happens here and it usually happens late," Baker said. "Some weird stuff happens in this ballpark. They were a couple hits away from tying that game up."
Carrie Muskat is a reporter for MLB.com. She writes a blog, Muskat Ramblings, and you can follow her on Twitter @CarrieMuskat. This story was not subject to the approval of Major League Baseball or its clubs.