Bourjos activated, pushing Trout to left field
Bourjos activated, pushing Trout to left field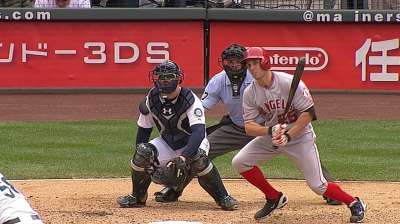 BALTIMORE -- As expected, Peter Bourjos was activated from the 15-day disabled list on Monday and placed in the Angels' starting lineup for the first time since straining his left hamstring in the 11th inning of a 19-inning game in Oakland on April 29.
And as expected, he was in center field, pushing Mike Trout back to left.
Debate has raged over the last few weeks about whether the Angels are right to move Trout out of his original position to accommodate Bourjos, considering how well the reigning American League Rookie of the Year has hit -- coincidentally or not -- since moving back to center.
Bourjos -- making his return in a ballpark housing hundreds of friends and family from Trout's nearby hometown in South Jersey -- won't put added pressure on himself because of it.
"You hear it, but there's nothing I can do about it," Bourjos said, prior to batting ninth in the series opener against the Orioles. "At the time, when all that stuff was going on, I could barely walk. It wasn't my first concern at all. My concern was getting healthy and that was it. When I'm healthy, then that's when I was going to deal with it. And where the chips fall, they fall. I really don't care [where I play]. I just want to be in the lineup and help the team win."
Trout, who posted a .342/.412/.651 slash line in the 38-game span he played center, was informed a while back by manager Mike Scioscia that he'd be moving back to left field when Bourjos returned.
"I knew it was coming," Trout said. "Before Petey went on the DL, he was playing well [with a .370 on-base percentage].
"Obviously, I feel comfortable in center field. Growing up, playing center field my whole life, it's my prime position. Moving to left is obviously an adjustment."
But Scioscia doesn't think moving back to left field will have a direct impact on Trout's numbers, and he believes the team profiles better with Bourjos -- slightly better defensively -- in center.
"I think it's the whole picture," Scioscia said. "I think you have to look at the whole outfield. Peter gives you a unique dimension in center field and allows you to be stronger on the wings, where they can do more things. We can do things as far as what our spray charts show. Mike does give you that same element in center, but in the big picture, I think it works out better with Peter in center right now and Mike and Josh [Hamilton] at his wings."
Alden Gonzalez is a reporter for MLB.com. Read his blog, Gonzo and "The Show", and follow him on Twitter @Alden_Gonzalez. This story was not subject to the approval of Major League Baseball or its clubs.