Solano optioned in favor of rookie replacement Dietrich
Solano optioned in favor of rookie replacement Dietrich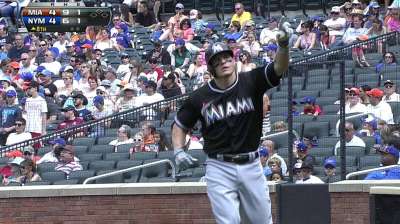 MIAMI -- Marlins second baseman Donovan Solano was reinstated from the 15-day disabled list on Monday after missing a month with an intercostal strain.
However, he is not returning to Miami.
The Marlins optioned Solano to Triple-A New Orleans, choosing instead to stick with his replacement, rookie Derek Dietrich.
"Unfortunately, in this game, sometimes when you get hurt, it's not a guarantee that you're going to be back out there when you're healthy," manager Mike Redmond said. "Dietrich came up, he got an opportunity, and he's done a tremendous job. He's gotten some huge hits for us."
Dietrich's latest huge hit was an eighth-inning home run against the Mets on Sunday at Citi Field. The leadoff solo shot tied the game at four and forced extra innings, paving the way for Miami's 8-4 win.
The clutch blast from Dietrich was also historic.
He became only the 13th player whose first five career home runs have either tied a game or given his team the lead. He joins a list that includes Eric Chavez, Tony Batista and Ken Griffey Jr.
Dietrich, who batted third in the order in 23 of his first 27 games, moved down to sixth on Monday to accommodate the return of Giancarlo Stanton and Logan Morrison.
"He's come out, and he's done a great job, and he's won that job," Redmond said.
Solano, who batted .295 in 93 games last season, was on a hot streak before he became injured. He had raised his batting average from .239 to .278 with a 15-for-43 stretch and owned a six-game hitting streak.
"I know it's tough," Redmond said. "Guys get injured, and they go down. But at the same time, too, there's not a guarantee that your job's going to be there when you get back.
"A lot of guys get hurt, and they just never make it back. It happens."
Christina De Nicola is a contributor to MLB.com. Joe Morgan is an associate reporter for MLB.com. This story was not subject to the approval of Major League Baseball or its clubs.