Top-ranked Cardinals continue to make fans happy
Top-ranked Cardinals continue to make fans happy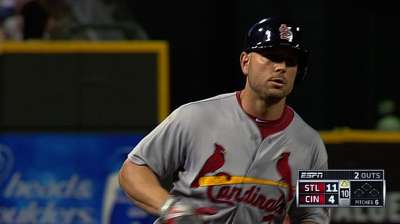 There's a running debate in baseball stadiums across the country that has existed for decades.
There's this notion that the Cardinals have the best fans in baseball, but not everyone agrees, especially baseball aficionados in cities like New York, Boston, Detroit and Baltimore. Fans in Arlington have gone as far as to call themselves residents of "Baseball Town."
Here is what is certain: Fans in all of those cities have plenty to root for these days. But a few big questions remain, starting with: Which city is home to the best team in the game?
Which team will be the last one standing at the end of the regular season and the postseason?
That's where you -- the best fans of the best game in world -- come in.
MLB.com has set up a panel of experts to vote on the top 15 teams each week. The group includes MLB.com vice president and executive editor Carlton Thompson, VP and executive producer Jim Jenks, columnists Mike Bauman, Hal Bodley, Anthony Castrovince, Richard Justice, Matthew Leach, Terence Moore and Tracy Ringolsby, reporters Barry M. Bloom, Marty Noble, Jesse Sanchez and Lyle Spencer, and MLB Network analyst Mitch Williams.
Agree? Disagree? The power to rank the teams is yours.
1. Cardinals
The Cards have the best record in the big leagues, powered by one of the best rotations in the game, which received another boost with the addition of rookie Michael Wacha. The Cardinals are just fine outside of St. Louis, sporting a 22-10 record away from Busch Stadium.
Last week: 1
2. Red Sox
The Boston offense is on a roll, leading baseball with 336 runs scored. Over their past eight games, the Red Sox are averaging 7.63 runs per contest. What's more, David Ortiz has homered in each of his past two games and three times in four games.
Last week: 4
3. Braves
The majority of Atlanta's recent offensive contributions have come from Freddie Freeman, who has batted .354 with 24 RBIs in his past 24 games, but Dan Uggla has also found his groove at the plate. The second baseman hit two home runs Sunday and has three homers in his past two games.
Last week: 5
4. Rangers
Texas is back on top in the American League West thanks in large part to Yu Darvish, who has been the stabilizing force in a rotation that has been stung by injuries all season. Adrian Beltre has been on fire at the plate, hitting .400 with four home runs and nine RBIs in his past 10 games. The third baseman hit six home runs last month and already has three homers in June.
Last week: 3
5. Tigers
Detroit has won four in a row, and Miguel Cabrera is having another season to remember. The reigning AL MVP leads the league in batting average (.363) and RBIs (67), and he is second in the AL with 17 home runs. Could another Triple Crown be on the horizon?
Last week: 9
6. Reds
The starting rotation has been solid, the defense has been stellar and Joey Votto might be the best hitter in all of baseball. The Reds are 22-11 at home and will play seven of their next 11 games at Great American Ball Park.
Last week: 2
7. Yankees
The Bronx Bombers have won seven of their past 10 games and remain in the hunt for the top spot in the AL East. Mark Teixeira is off to a slow start, hitting just .167 in 10 games since coming off the disabled list, but he has three home runs and eight RBIs during that span. Mariano Rivera has converted 23 saves in 24 chances this season.
Last week: 13
8. A's
Oakland is jockeying for the top spot in the AL West, recently wrapping up a 17-game stretch without an off-day with a 13-4 record. The A's have won 18 of their past 23 games and trail the first-place Rangers by only a half-game in the standings.
Last week: 6
9. Pirates
The club's offensive woes have been compensated for by outstanding starting pitching all season, which will get even better on Tuesday when right-hander Gerrit Cole, the top overall pick in the 2011 First-Year Player Draft, makes his Major League debut.
Last week: 7
10. D-backs
Paul Goldschmidt is playing like an All-Star and has emerged as an National League Most Valuable Player candidate for the first-place D-backs. Patrick Corbin is 9-0 and is making a case to start the Midsummer Classic.
Last week: 8
11. Orioles
Third baseman Manny Machado leads the big leagues with 27 doubles, while Chris Davis is having the best year of his career. The slugging first baseman leads the big leagues with 20 home runs and has driven in 52 runs. Davis is batting .338.
Last week: 12
12. Rays
Matt Moore started the season with an 8-0 record, but he has struggled lately and the club has followed suit, falling to fourth place in the AL East. In Moore's past two starts, he has seen his ERA jump from 2.18 to 3.78.
Last week: 10
13. Giants
San Francisco won two of three against the D-backs over the weekend, and the club is coming off its first road series win in more than a month. A slumping offense came to life over the weekend, outscoring Arizona, 16-7, on Saturday and Sunday.
Last week: 15
14. Rockies
Carlos Gonzalez has been bothered by a sore left knee for the last week, but he still has 12 RBIs in his past five games. The Rockies enter the week 6-4 in their past 10 games. They trail the first-place D-backs by 1 1/2 games in the NL West.
Last week: 11
15. Nationals
Bryce Harper, who leads the Nats in almost every offensive category, is on the disabled list because of a left knee injury. Harper is convinced he'll be back in the lineup Tuesday against the Rockies, but manager Davey Johnson is not so sure.
Last week: NR