Six-run seventh helps Angels snap skid
Six-run seventh helps Angels snap skid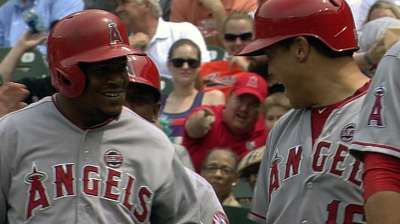 BALTIMORE -- A lot of time remains in the Angels' season, but their hole is deep. They salvaged a win in Wednesday's series finale against the Orioles, using three hits from Albert Pujols and a big one from Erick Aybar to capture a 9-5 victory just before their flight back West.
But the reality remains harsh: At 28-38, the Angels are still double-digit games out of first place in the American League West and need to win 19 of their next 27 just to have a winning record by the All-Star break.
"One game at a time" is the oft-used cliche -- but it's really the Angels' only choice.
"It's almost like when you're 0-for-10 or 0-for-5 -- you can't make up five at-bats in one at-bat," Pujols said, his seventh-inning two-run homer giving him 11 on the year and capping a game-breaking six-run frame.
"You have to flip that page and be positive and stay strong. We could've easily come here, the way we struggled in this road trip, and they could've easily swept us. But we fought back and had good quality at-bats."
None was more important than the one Aybar had in the top of the seventh, with the bases loaded, none out and the Angels down 4-2 and in danger of getting swept by the Orioles for the first time since 2010.
Aybar -- batting ninth because manager Mike Scioscia wanted the more patient J.B. Shuck in the No. 2 spot -- saw two straight balls from Orioles reliever Pedro Strop. He then fouled off a 96-mph fastball before driving the next one into the right-center field gap, notching a three-run triple and then scoring when Ryan Flaherty's relay throw skipped past third baseman Manny Machado.
The Angels went 2-4 in six games through Boston and Baltimore, winning only the first one and the last one. Through the four in between, they averaged three runs and went a combined 5-for-24 (.208 batting average) with runners in scoring position.
Aybar's hit was the one that had eluded them.
"We had left a lot of guys on base," Aybar said. "When we put it together, you guys know we have a good team. We just have to keep playing hard every day and see what happens."
On yet another day when several hard-hit balls -- Mike Trout's two liners, Josh Hamilton's drive to center, Hank Conger's hard groundout -- turned into outs, the Angels finally caught a break in that seventh. Conger, whose third-inning solo homer landed in the street beyond Camden Yards, hit a chopper up the middle that could've easily been a double play. Instead, it bounced off the glove of a leaping Strop and went for a single, loading the bases to set up Aybar's heroics.
"Not good -- only thing I could say," Strop said of his outing, which ended amid a chorus of boos. "I couldn't do the job."
Jerome Williams, returning to the rotation because the Angels needed a sixth starter, was hit hard but didn't crumble, going six innings, giving up four runs -- two of which came on solo shots from Adam Jones and Chris Davis -- and getting the win.
The Angels continue to search for the spark of that eight-game winning streak they seem so far removed from, winning for just the fifth time in the 16 games that followed. They're off on Thursday, then start a season-long 10-game homestand against the Yankees as part of a tough stretch in their schedule.
Sixteen weeks from now, if they make the playoffs, the Angels will join only three other teams -- the 2005 Astros, the 1974 Pirates and the 1914 Boston Braves -- to do so despite losing at least 38 of their first 66 games, according to the Elias Sports Bureau.
They prefer not to get so far ahead of themselves.
"There's always urgency, since Day 1," said Pujols, now with 486 career home runs. "You always want to win games and win series. Obviously, it hasn't been like that, the way we want it to, but hopefully we can change that. You can't think about the first 60-plus games that we already played. You need to think ahead of us, what we have, and how many games we can win in a month by taking it one game at a time. That's pretty much it."
Alden Gonzalez is a reporter for MLB.com. Read his blog, Gonzo and "The Show", and follow him on Twitter @Alden_Gonzalez. This story was not subject to the approval of Major League Baseball or its clubs.