Worth the wait: Sox need extras, but knock off Rays
Worth the wait: Sox need extras, but knock off Rays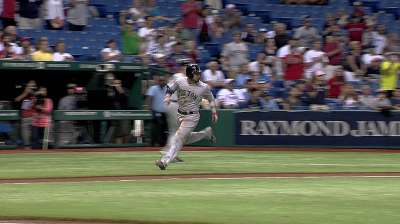 ST. PETERSBURG -- Monday night had turned into Tuesday morning by the time the Red Sox came in through the dugout tunnel and toward the visitors' clubhouse.
Dustin Pedroia's uniform -- pretty much every inch of it -- was covered in dirt. Catcher Jarrod Saltalamacchia, who caught the entire marathon and came through with a four-hit night, was drenched in sweat.
Yet being tired probably never felt so good for the Red Sox, who gritted their teeth en route to a 10-8, 14-inning victory over the Rays at Tropicana Field.
Finally, Boston stole the momentum for good when Daniel Nava, who has had a flair for the dramatic this season, punched in an RBI single to center with one out in the 14th.
"I was just praying it had enough to get over [the second baseman's] head," Nava said.
And there was Saltalamacchia, who somehow still had the energy to come up with a single to left that brought in pinch-runner Jose Iglesias for an insurance run.
"Really, both teams showed a lot of guts," said John Lackey, who started the game for Boston and took a no-decision. "That's not an easy thing to do, to play 14 innings. A guy like Salty caught 14 innings and got however many hits in extra innings. That's pretty awesome. That shows a lot of what's inside of him."
Shane Victorino opened the rally with a single to left-center, and in a heads-up baserunning move, he tagged and reached second on a flyout into the right-field corner by Pedroia.
"That basically served as a sac bunt of some sort to move him into scoring position," said manager John Farrell. "Just a heads-up play. Pedey gets enough of it to drive it deep into the right-field corner to give him some room to tag up. We did a lot of good things well tonight. Most importantly, scoring [two more runs] than they did."
Left-hander Franklin Morales, who was supposed to make a spot start on Wednesday, pitched the final two innings to earn the win. The performance came just two days after his control meltdown hurt the Sox badly in a loss to the Angels.
In this one, Morales, who had thrown a side session before the game, selflessly gave up Wednesday's start to help the Red Sox stave off the Rays.
"Today, that's the most important thing," Morales said. "Take the win today, and the next day, somebody else can do it. When the pitching coach asked me, I told him, 'I can do it, I can help the team. If you need me, use me.' I tried to do the best I could."
The game took five hours and 24 minutes and showcased so many of the traits that have the Red Sox at 40-25 -- the best record in the American League.
"That was a long game. That was a good win," said Pedroia. "There were a ton of things that happened, both sides. Pretty impressive game. We were just happy to win it."
It's hard to believe it would come to that, considering the first eight Boston batters reached base en route to a 6-0 lead in the top of the first. And even harder to believe, considering the Sox took an 8-6 lead in the top of the 10th when Saltalamacchia fought off a 99-mph fastball by Fernando Rodney in the top of the 10th for a two-run single.
"I've faced him before. Obviously he's got good stuff," said Saltalamacchia. "I wasn't trying to pull anything. I wanted to get a good pitch to hit up the middle or hit to left. First pitch changeup, I saw the runner going and I took it. Next pitch, he threw a fastball where he wanted it, and I was able to do something with it and threw it into right-center."
But that still wasn't enough.
Andrew Bailey came on to try to close it out in the bottom of the frame and simply didn't have his best stuff, or anything close to it. In his first save opportunity since May 25, Bailey had a rough night.
Jose Lobaton opened the bottom of the 10th with leadoff homer to nip Boston's lead to a run. Bailey then walked Yunel Escobar and Matt Joyce and there was still nobody out.
Ben Zobrist followed with his fifth hit of the game, a single to right, to load the bases. After getting ahead of Kelly Johnson 0-2, Bailey walked him to force in the tying run.
"I've got to hold it down in that situation," said Bailey. "We're short down in the 'pen. I can't walk three guys. You just can't do that. Koji [Uehara] picked us up, and obviously Franklin coming in and getting the job done. I've got to get the job done in that situation."
However, Bailey didn't let the night slip away entirely. After he had issued the game-tying walk, the Rays still had the bases loaded with nobody out.
Just about anything could have won the game. Instead, Evan Longoria stung a 5-2-3 double play.
Then came a game-saver by the always heads-up Pedroia. Pinch-hitter Sam Fuld tried to surprise the Red Sox with a game-winning bunt single to the right side.
Pedroia swooped in and fired to first, just in time to get Boston out of the inning.
"Pedey's fielding of the bunt for [an attempted] base hit by Fuld, just an acrobatic, outstanding play that enabled us to prolong the game," said Farrell. "Like I say, we found a way to pull this one out tonight."
Though he had a big cushion, Lackey allowed the Rays to get back into it. Joyce opened the Rays' first with a solo homer. With two outs, Longoria smashed a solo shot.
The Boston bats were quieted after that outburst in the first. Meanwhile, the Rays kept coming, making it 6-4 by the fourth.
Things got heated in the sixth when Lackey drilled Joyce on the upper back. Joyce fumed and tried to make his way toward the mound, but he was corralled by Saltalamacchia.
"I was trying to come in there and get him off the plate a little bit," said Lackey. "They were swinging quite a bit, at pretty much everything I threw up there, so I was trying to maybe get a little bit of plate for me."
The benches emptied, but there were no altercations or ejections. Warnings were issued to both sides. Zobrist followed by belting a double, and that forced Lackey out of the game.
With the tying runs in scoring position, lefty reliever Craig Breslow got a big strikeout looking on Johnson.
James Loney went deep against Andrew Miller in the seventh, and Boston's 6-0 lead was down to 6-5.
The Rays completed their comeback in the eighth. Escobar clubbed a double to left against Junichi Tazawa. Escobar moved to third on a grounder to second by Joyce, and painfully for the Red Sox, the tying run scored on a wild pitch. The ball caromed quickly to Saltalamacchia, but Tazawa wasn't able to get the tag down until Escobar had already crossed the plate.
Pedroia prevented the inning from being worse, when he raced to the mound and made a sensational diving catch on a popup off the bat of Johnson. Pedroia barely snagged the baseball before it hit the dirt.
Tazawa seemed to view the airborne baseball as a hot potato. Pedroia realized that just in time.
"[Tazawa's] part of the defense, too," quipped Pedroia. "He kept pointing at it. I was like, 'Please catch it.' That was about it. I'm glad I caught it. It was luck."
The Red Sox started the game with a batting barrage against Alex Cobb, as the first eight hitters in Farrell's lineup reached base, six of them scoring.
Ian Browne is a reporter for MLB.com. Read his blog, Brownie Points, and follow him on Twitter @IanMBrowne. This story was not subject to the approval of Major League Baseball or its clubs.