Extra painful: After two rallies, Rays edged out
Extra painful: After two rallies, Rays edged out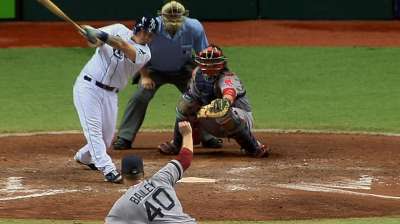 ST. PETERSBURG -- What didn't come to fruition for the Rays in the first extra frame proved costly as they took a 10-8 loss in a 14-inning affair to the American League East-leading Red Sox at Tropicana Field that lasted five hours and 24 minutes Monday night.
Tampa Bay's "what if" moment came after scoring twice in the 10th to tie the game. The bases were still loaded with no outs and Evan Longoria stepped to the plate.
If manager Joe Maddon were a betting man, he knew what he would have done in that situation.
"All in, baby," Maddon said.
Ultimately, what played out just reaffirmed a long-standing baseball postulate: There are no sure things in baseball.
Red Sox closer Andrew Bailey got ahead in the count 0-2. Longoria then swung at a fastball, grounding to third baseman Will Middlebrooks, who scooped the ball cleanly and threw home to Jarrod Saltalamacchia. The Red Sox catcher delivered a strike to first to complete the 5-2-3 double play.
"It was so awkward," Maddon said. "I mean, to get behind in the count and to hit a ground ball right at Middlebrooks."
The Rays still had another chance in the form of pinch-hitter Sam Fuld. The speedy outfielder dragged a bunt to the right side of the infield. If he managed to beat it out, Tampa Bay would have gone home 9-8 winners. Instead, Red Sox second baseman Dustin Pedroia managed to field the ball and snap off a quick throw to beat Fuld by several steps.
So despite blowing a six-run lead after the top of the first and a two-run lead in extra innings, the Red Sox still managed to come away with a the win.
In defeat, the Rays fell to 34-29 and dropped to five games behind the Red Sox.
Shane Victorino singled off Cesar Ramos to lead off the 14th and moved to second when Pedroia flew out to right. David Ortiz was intentionally walked before Daniel Nava's single to center scored Victorino. Saltalamacchia then singled home pinch-runner Jose Iglesias to give the Red Sox a 10-8 lead that held.
Ramos pitched three innings of relief Sunday against the Orioles before his three-inning stint Monday night.
"I mean, I felt decent," said Ramos, refusing to take the easiest available excuse. "The frustrating part was the type of hits they were. It's one thing when you get hit hard. Just a couple of well-placed balls and unfortunately they end up winning."
By the time Yunel Escobar grounded into a game-ending double play, the Rays had used up their bullpen -- sending seven relievers into the game, and infielder Ryan Roberts could be seen loosening up in the bullpen to pitch the 15th.
Boston grabbed a 6-0 lead in the first against Alex Cobb, who failed to retire any of the first eight hitters he faced. The Rays then spent the next eight innings playing catch-up.
Tampa Bay got solo homers from Matt Joyce and Longoria in the bottom half of the first. They further cut into the lead when Ben Zobrist scored in the third on a groundout and then singled home a run in the fourth.
Cobb managed to add three scoreless innings before leaving after the fourth with a less than Cobb-like line that showed six runs on seven hits, three walks and four strikeouts.
"I think I was letting the game speed up too much," Cobb said. "A couple of ground balls got through and put me in a jam, and instead of settling down executing pitches, I kind of let the game speed up. ... I made the adjustment way too late, and before I knew it, there were six runs on the board."
Alex Torres took over and continued the season-long roll he has been on during his two stints with the Rays. The left-hander did not allow a run on two hits while striking out four in two innings. Torres has now pitched 13 1/3 innings in six appearances without allowing a run and striking out 18.
In the seventh, an inning after John Lackey plunked Joyce between the shoulder blades prompting both benches to empty, James Loney hit a solo home run off Andrew Miller to cut the lead to 6-5.
Escobar scored in the eighth on a wild pitch by Junichi Tazawa to tie the game at 6.
Boston's offense finally woke up in the 10th when Saltalamacchia delivered a two-run single off Fernando Rodney to put the Red Sox up 8-6.
Tampa Bay answered when Jose Lobaton homered off Bailey to lead off the bottom of the 10th. Kelly Johnson then drew a bases-loaded walk to tie the score at 8 in advance of Longoria hitting into the devastating double play.
"Thankfully it turned out as a win," Red Sox manager John Farrell said. "That was just two teams going at it for nearly five and a half hours, whatever it was. Every time we seemed to get a little breathing room, they'd come right back. They've been swinging the bats well for the last six weeks or so and tonight was another case of that."
Bill Chastain is a reporter for MLB.com. This story was not subject to the approval of Major League Baseball or its clubs.