Twins can't hold late lead, drop nightcap in DC
Twins can't hold late lead, drop nightcap in DC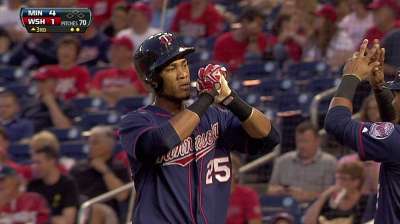 WASHINGTON -- Frustrating seemed to be the key word for the Twins on Sunday.
It's how Twins manager Ron Gardenhire summed up their 5-4 defeat in Game 2 of a doubleheader, and it's how Scott Diamond described his performance after a 7-0 loss to the Nationals in Game 1 at Nationals Park.
The Twins had a chance to take the second game, but couldn't hold a three-run lead, and the offense failed to produce with runners in scoring position, going just 1-for-10 in those situations.
"It was a frustrating loss for us," Gardenhire said. "We threw just about everything we possibly could at them. We hit some on the screws, but they went right at them. They got some big hits and ended up getting the win so a very frustrating game for us. We thought we hit it better than the runs out on the board, but it didn't come out that way."
Right-hander Anthony Swarzak gave up the tying run on an RBI triple to former teammate Denard Span in the sixth before surrendering the go-ahead run on an RBI double to Ian Desmond in the seventh.
"It's very tough," Swarzak said. "I thought we had that last one. A couple bad pitches on my part and it's a whole different ballgame."
Swarzak admitted he was surprised that Span swung at a first-pitch fastball, which the center fielder drove into the corner in right field to tie the game up.
"It was fastball down and away first-pitch, and he went down and hooked it like I've seen him do so many times," Swarzak said. "He put a good swing on it. Honestly, I thought he was gonna take. He's been taking the first pitch every at-bat this series."
But it was Desmond who had the go-ahead hit, with an RBI double in the seventh to score Adam LaRoche, who had doubled with one out. It marked the first comeback win of the year for the Nationals after trailing by three or more runs.
"We're taking steps in the right direction, and that was a huge step," Desmond said.
Right-hander Samuel Deduno started the second game for the Twins, but didn't factor into the decision as he lasted just five innings, giving up three runs (two earned) on six hits and three walks.
"Today I didn't feel I had my best stuff," said Deduno, who threw 94 pitches. "I couldn't throw first-pitch strikes. That was the problem."
The Nationals got on the board in the first with an RBI single from Jayson Werth to score Roger Bernadina, who had singled and advanced to second on a walk by Ryan Zimmerman.
But the Twins took the lead with two runs in the second, as Nathan Karns walked Eduardo Escobar and Pedro Florimon to open the inning and both scored on a two-run double from Chris Herrmann off the wall in right field.
Minnesota padded its lead with a two-run blast from Florimon in the third inning. It was Florimon's third of the year and marked the last inning for Karns, who went just three innings and surrendered four runs on five hits and three walks.
The Nationals came back with a run in the bottom of the third, as Bernadina, Zimmerman and Werth opened the inning with three straight hits, the last of which scored Bernadina.
Washington scored again in the fifth on a sacrifice fly from Adam LaRoche to drive in Span, who drew a leadoff walk, reached second on a walk by Bernadina and third on an error by third baseman Jamey Carroll.
It was the final inning for Deduno, who was pinch-hit for by Justin Morneau in the top of the sixth with one out and Escobar at third base. But Morneau popped out to second against left-handed reliever Fernando Abad and Carroll lined out to second on a nice jumping catch by Anthony Rendon to end the inning.
"That was huge," Gardenhire said. "We took our good shot with Morny there. I don't care who they bring in. He's been our best RBI guy, so we took our shot with him."
It was a missed opportunity for the Twins, who were held scoreless over the final six innings by Washington's bullpen. They also had a chance to tie it with runners at first and third with two outs in the ninth against closer Rafael Soriano, but Josh Willingham popped out to end the game.
"We just couldn't come up with one more big hit," Gardenhire said. "We had some bullets and they made some plays, and there you have it."
Rhett Bollinger is a reporter for MLB.com. Read his blog, Bollinger Beat, and follow him on Twitter @RhettBollinger.
This story was not subject to the approval of Major League Baseball or its clubs.