Skaggs struggles as Giants stay hot at Chase Field
Skaggs struggles as Giants stay hot at Chase Field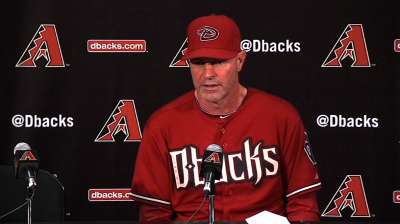 PHOENIX -- While the rest of the Majors have feasted on the Giants when they've come to town this season, the D-backs can't seem to figure out how to beat San Francisco at home.
In Sunday's rubber match, Tyler Skaggs surrendered five runs in five innings as the D-backs fell, 6-2, losing their ninth game in the past 11 meetings with their division rival at Chase Field.
With the series defeat, the D-backs' lead in the division shrank to 1 1/2 games over the Giants, who moved to 5-1 in Phoenix this season. In every other away ballpark, San Francisco is a combined 7-17 in 2013.
"They're a very good team, one of the best, so you have to give them credit," Paul Goldschmidt said. "We just have to keep playing hard, you can't let up."
The losing recipe on Sunday started and ended with Skaggs never really settling in on the mound. The left-hander allowed at least one run in four of the five innings he completed.
Since shutting out the Rangers over six innings on May 27 in his first start of the year, Skaggs has given up a combined 10 runs in his last 10 2/3 innings, joining the likes of Ian Kennedy, Trevor Cahill and Wade Miley, who've all struggled recently.
"I was keeping the fastball up," Skaggs said. "It's not easy when you're pitching like that. I have to work down in the zone."
It wasn't long ago that the strength of the D-backs' roster was their starting rotation. Midway through May, all five of Arizona's starters were delivering quality outings and pitching deep into games.
Now just a few weeks later -- thanks in part to injuries to Brandon McCarthy and Daniel Hudson -- question marks surround the club's rotation.
In fact, if you take away Patrick Corbin's numbers, D-backs starters have a combined 9.73 ERA in June.
"We've been in a little stretch here where our starters have given up a lot of runs and it's putting a big strain on our bullpen," D-backs manager Kirk Gibson said. "They're exhausted out there. It kind of has an effect on the [position] players too, our fielding hasn't been as sharp lately either."
Just as they did Saturday against Cahill en route to a blowout win, the Giants jumped on Skaggs early and often on Sunday.
The first five batters the lefty faced all reached base, resulting in two quick runs. Fortunately for the D-backs, Skaggs was able to limit the damage by retiring the next three Giants.
"He just didn't have very good command in that inning," Gibson said. "He got behind a lot of guys."
After posting a clean second frame, the southpaw proceeded to surrender a single run in each of the next three innings. In the third, a bloop double from Hunter Pence followed by an errant Martin Prado throw on Juan Perez's infield hit plated the third run of the game.
Marco Scutaro and Brandon Belt followed that up by driving out solo homers in each of the next two innings. Skaggs faced one more batter in the sixth, who reached on an error, before D-backs manager Kirk Gibson went to the bullpen.
"Baseball is a humbling game, you can't go out there and dominate each time even though you'd like to," Skaggs said. "I thought I threw the ball well after the first, there were a few mistake pitches here and there, but I still felt like I settled down. It wasn't too bad."
Offensively, the Arizona lineup never really got going against Giants starter Chad Gaudin. Making his second start of the season since moving into the rotation from the bullpen, the veteran right-hander held the D-backs to two runs over six innings while striking out seven.
"Their guy was pounding strikes in the zone, getting ahead and it made us expand a bit," Gibson said.
Both of Arizona's runs came in the fourth, on an A.J. Pollock RBI single and a Gaudin balk.
Goldschmidt, who entered Sunday with an RBI in each of his past eight games, saw that streak come to an end, going 0-for-4 as the Giants took away a couple of extra-base hits from him with two stellar plays in the outfield.
"Things weren't really going our way, they made some good plays," Gibson said. "We were unable to make plays on our side."
Tyler Emerick is an associate reporter for MLB.com. This story was not subject to the approval of Major League Baseball or its clubs.