Despite three homers, Padres lose in wild walk-off
Despite three homers, Padres lose in wild walk-off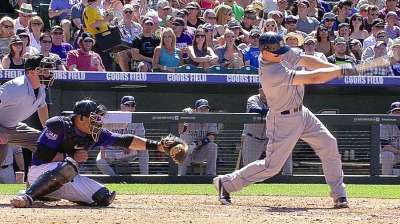 DENVER -- Nick Hundley has been coming to Coors Field since 2008, so he's become desensitized to the improbable and, occasionally, peculiar things that occur here.
How would the Padres' catcher describe this place to someone who has never witnessed Coors Field baseball before?
"I would say, never leave your seat ... no matter how big a lead a team has," said Hundley, a roll of ice wrapped around his neck.
For the record, it was the Rockies' Dexter Fowler who won Sunday's game when he rolled a single into center field, cinching an 8-7 victory over the Padres in 10 innings before a crowd of 33,668.
Getting there wasn't so simple for either team.
The Rockies (34-30) gained a split of a four-game series against the Padres (29-34) on a sun-kissed day by getting an early lead, seeing their starting pitcher retire the first 16 hitters he faced, losing the lead, and then tying the game in the ninth inning before finally winning it on Fowler's fourth hit of the game.
Get all that?
"In this park," Padres manager Bud Black said, "you never know."
The Padres looked buried early, falling behind 4-0 by the third inning after Troy Tulowitzki hit a first-inning, two-run homer off Padres pitcher Clayton Richard, who has allowed four home runs to the Rockies' shortstop in 18 career at-bats.
The way Rockies' pitcher Juan Nicasio was dealing, it didn't appear that any drama -- which was evident during the first three games of this series -- would be needed. Nicasio, using a live fastball, worked fast through the Padres' lineup -- 16 up, 16 down -- with seven strikeouts to boot.
"It's as good as I've seen Juan this year. He was at the bottom of the zone, his good fastball, and he was up to I think 95 or 96," said Rockies manager Walt Weiss. "Threw some good changeups today and then the slider, all three were working for him. Just that sixth inning they got some balls up, it looked like.
The Padres finally got to Nicasio with one out in the sixth inning when Hundley connected for a home run to left field. Later in the inning, Alexi Amarista had an RBI single to cut the lead to two. From there, the Padres kept on scoring.
"The homer sort of broke the ice for us," Black said.
After Cameron Maybin and Mark Kotsay hit home runs in the seventh inning, the Padres held a one-run lead, one that grew to three going into the ninth inning, when the team called upon interim closer Luke Gregerson, who, like all Padres relievers, has been taxed in the last 10 days.
The Padres' pitching staff has been stretched by five extra-inning games in their last 10 outings, a blow exacerbated by the fact that the team is in a stretch of 20 consecutive games, plus closer Huston Street is on the disabled list. The game on Sunday was No. 17.
"The guys have been stretched the last week-to-10 days," Black said. "The bullpen has been taxed."
Gregerson walked Todd Helton and allowed a single to Jonathan Herrera. One out later, he was facing Carlos Gonzalez, who probably saved the Rockies from an even bigger deficit with two fine catches in left field earlier in the game. Gregerson jumped out fast on Gonzalez with two sliders for strikes.
But Gregerson wasn't able to bury his next slider, as Gonzalez turned on the pitch for a two-run double that tied the score.
"That was probably one blip on the radar for him," Black said.
Gregerson walked a tightrope in the ninth inning of a 4-2 victory over the Rockies on Saturday. On Sunday, the Rockies returned the favor.
"I knew he was going to throw me sliders," Gonzalez said. "It's hard even when you see a lot of sliders. His is one of the best sliders in the game. I was just trying to make sure, if I was going to swing, try to make it come up, don't swing at a ball in the dirt."
Richard, who entered the game with an 8.38 ERA and likely a tenuous hold on his spot in the rotation, gave up his 13th home run in 39 1/3 innings to Tulowitzki. But Richard pitched better after getting into an early hole, allowing two hits over his last three innings.
"Clayton did a nice job, putting up three zeroes at the end," Black said. "You ask anyone, four runs over six innings in this park is not a bad effort. There's some pitches he'd like to have back, but I think it was a step in the right direction."
The loss was costly on more than one front. Rookie second baseman Jedd Gyorko, who leads the team with eight home runs and 25 RBIs, suffered an undisclosed injury to his right groin running the bases in the top of the 10th inning.
Black said he was a "little concerned" about the injury, though he won't be able to assess the severity until the team returns to Petco Park on Monday. Gyorko was hoping it's just a cramp.
Corey Brock is a reporter for MLB.com. Keep track of @FollowThePadres on Twitter. This story was not subject to the approval of Major League Baseball or its clubs.