CarGo sets the table for Fowler's walk-off heroics
CarGo sets the table for Fowler's walk-off heroics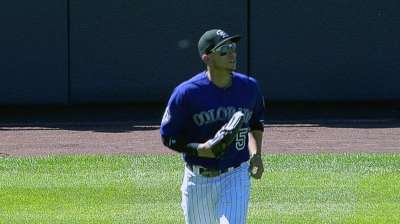 DENVER -- Carlos Gonzalez smiled broadly after the Rockies beat the Padres, 8-7, in 10 innings Sunday afternoon to gain a split in a wacky four-game series at Coors Field. But let's not get carried away with the healing properties of victory.
"Everything hurts, but it's fun when you win," Gonzalez said.
Gonzalez crashed into the left-field wall three times for run-saving catches, and made a full-length dive when he narrowly missed another highlight catch. But Gonzalez can nurse his bruises with the memory of delivering a game-tying, two-run double with two outs and an 0-2 count in the ninth inning. He can wince as he celebrates a game won on Dexter Fowler's two-out RBI single in the bottom of the 10th.
Sunday's victory in front of 33,668 was worth the pain.
With the help of Troy Tulowitzki's 17th homer, good for two runs in the first, and Nolan Arenado's RBI triple, and with starting pitcher Juan Nicasio perfect through 5 1/3 innings, the Rockies had a four-run lead.
The first hit off Nicasio was a Nick Hundley homer with one out in the sixth.
"I was not thinking about a no-hitter; I was just focused on a good pitch," said Nicasio, who then gave up another a run on three straight singles.
One inning later, Edgmer Escalona gave up a solo shot to Cameron Maybin and a two-run homer to Mark Kotsay and left with a triceps injury. The Padres added two more runs in the eighth, and the Rockies found themselves three runs down headed into the bottom of the ninth.
But a series like this wasn't going to end quietly. After Todd Helton led off the 10th with a walk and Jonathan Herrera singled off Tyson Ross (0-3), Fowler made sure it ended happily with his single to right.
"It's huge, especially at home," said Fowler, who went 4-for-6. "We were down in the series, 2-1, and to even it up before they get out of here, it was awesome."
Fowler's hit made a winner of Rex Brothers, who gave up a Kyle Blanks hit in the 10th but picked him off for the final out, which extended his scoreless streak to 27 appearances covering 25 1/3 innings.
It was the Rockies' sixth walk-off victory this season and the second time Fowler drove in the winner. The Rockies remained tied for second in the National League West with the Giants, 1 1/2 games behind the D-backs.
"Like we talked about, getting those timely hits, yesterday, we didn't get them and today we did, so it was big," said Arenado, who has tripled in the last two games.
Rockies manager Walt Weiss said, "You could sense in the dugout, guys, they were in a fight to the end today. It would have been a tough game to lose. The attitude was real good in the dugout, and guys kept competing, they kept encouraging each other to compete until it was over and found a way to win that game."
The early lead should've been bigger. In the second, Helton was thrown out after tagging up on Herrera's fly to Blanks. The throw beat Helton easily.
"His legs must have been feeling young today," Weiss said.
After the Padres came back, Gonzalez would not let the Rockies lose.
Gonzalez reached above the top of the fence to rob Blanks of a possible fifth-inning homer, keeping Nicasio perfect through 5 1/3 innings. When Nicasio faltered in the sixth, Gonzalez crashed into the wall to catch Will Venable's fly, ending the inning with the bases loaded. Gonzalez also hit the wall in the top of the ninth to rob Carlos Quentin, with Rob Scahill pitching.
"Three plays against the wall -- he's a phenomenal athlete, it's well-documented by now," Weiss said. "But a huge, huge double to tie the game ... a big-time performance by CarGo."
In the eighth, with the Rockies already having lost the lead, Gonzalez dove and couldn't nab Venable's deep drive. The play went for an RBI triple, and Venable scored later for what looked like a commanding three-run Padres lead.
Gonzalez had been bothered by left knee soreness for about a week, and said he tried to make sure nothing happened to the knee when he made the plays. But his shoulders and back took the impact on the catches, and his chest hurt after the diving miss.
But four hitless at-bats before the ninth bothered him more.
"That's what I always tell myself when I'm 0-for-4 -- the game will give you another opportunity," Gonzalez said.
After Herrera's ninth-inning leadoff single, Tyler Colvin's one-out RBI single and Fowler's single and steal of second, Gregerson had Gonzalez 0-2 on sliders. Gregerson left the next slider up in the zone, and Gonzalez pulled it to right field.
"I've played with Luke [Gregerson] for a long time and I can't remember the last time he gave up three runs," Padres catcher Hundley said.
The Rockies' 10-game homestand continues with the Nationals starting Tuesday, follow by a series with the Phillies starting Friday.
Thomas Harding is a reporter for MLB.com. Read his blog, Hardball in the Rockies, and follow him on Twitter @harding_at_mlb. This story was not subject to the approval of Major League Baseball or its clubs.