Chavez improving quickly from oblique injury
Chavez improving quickly from oblique injury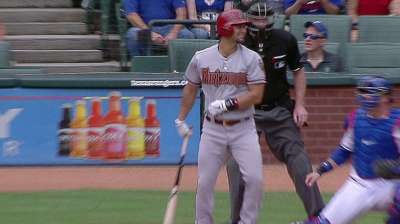 PHOENIX -- Just 10 days after suffering a minor tear of his right oblique muscle, D-backs third baseman Eric Chavez said he is progressing well and expects to be ready to resume baseball activities in another week or so.
"The last three days I've been doing a lot, I'm doing more than I thought I'd be able to at this point," Chavez said. "I'm doing everything I'm supposed to with the trainer but I'm also working out in the gym, and I've been able to do some rotation stuff without feeling it at all."
On the 15-day disabled list since May 31, Chavez incurred the injury while taking a swing in the first inning on May 30 against the Rangers. At the time, Chavez was a big part of the Arizona lineup, batting .325 with seven homers and 25 RBIs.
"Timing of being hurt always sucks, there is never a good time for it," he said. "You just deal with it, and hopefully it's quick process and you can get right back at it."
Doctors told Chavez he probably would be able to play after two or three weeks, but they suggested once he felt ready to go that he wait an additional week just to be certain the injury won't flare up again.
D-backs infielder Willie Bloomquist knows firsthand how tricky oblique injuries can be. He suffered one at the end of Spring Training and didn't make his regular season debut until June 1 because of several setbacks.
"I've actually been picking Bloomquist's mind a little bit, just asking him questions as I get going, you know, if there are any signs I need to look for, just trying to gather as much information about it," Chavez said. "Since this is my first time, I don't know whether to push it or not, but it's going really well. It's going to be a little bit of a gray area, but if it feels good, I'm going to try to push it and get back as soon as I can."
Tyler Emerick is an associate reporter for MLB.com. This story was not subject to the approval of Major League Baseball or its clubs.