Betancourt playing catch as rehab progresses
Betancourt playing catch as rehab progresses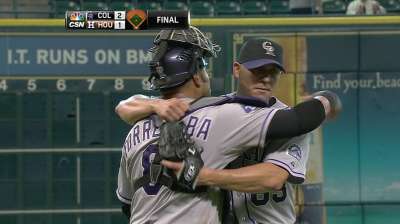 DENVER -- Injured Rockies closer Rafael Betancourt said this week will be significant in his recovery from a right groin injury that forced him to the disabled list on June 2. He is eligible to return on June 16.
Betancourt underwent platelet-rich plasma (PRP) treatments on Monday and Friday to aid in healing, and he planned to do underwater exercises and play catch on Sunday.
"The good thing about it is the soreness that I had when I was pitching, I don't feel that," Betancourt said. "I didn't do anything for a week. Man, it's not fun, but maybe that helped.
"This week is going to be very important, too. I'll start doing a lot of moving and see how my legs will react. Hopefully, I won't have any soreness. If that happens, I'm going to be fine. That's what I want."
Betancourt has dealt with soreness since 2009, when he underwent surgery to repair a torn groin muscle. The soreness is around the scar tissue. He usually pitches through it, but this year it became impossible.
Betancourt converted 10 saves before being removed after two pitches on May 21 because of the pain in his leg. On May 25, he blew a save at San Francisco, converted a save at Houston on the 28th, and on the 31st, he entered a tie game at home against the Dodgers and took the loss.
"To say this was the worst, I don't know, but it was different," Betancourt said. "The soreness I had the next day after throwing, I never had that before. That's what took me out. I couldn't hold up anymore. Every time I got to the ballpark, I was thinking more about that than going out to pitch. You have to think about pitching, then other stuff. But it happened.
"After ... all the work I put in during the offseason and during the season, I was really mad that this happened. But there's nothing I can do about it. I wasn't helping the team the way I was supposed to. I don't think it's fair for the guys to go play the whole game, and I come in for one inning and blow everything out. It's not a good feeling, especially when you know you're not completely 100 percent."
Thomas Harding is a reporter for MLB.com. Read his blog, Hardball in the Rockies, and follow him on Twitter @harding_at_mlb. Ian McCue is an associate reporter for MLB.com. This story was not subject to the approval of Major League Baseball or its clubs.