Bochy gives Perez first MLB start in center field
Bochy gives Perez first MLB start in center field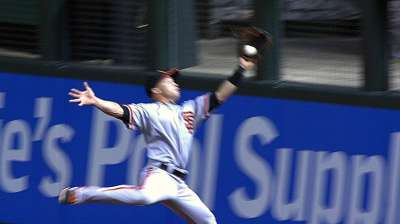 PHOENIX -- Assembling Sunday's lineup required more thought for Giants manager Bruce Bochy than met the eye.
Giving Juan Perez his Major League debut wasn't just a matter of writing the rookie's name on the lineup card. Although it made sense to play Perez in center field, where he played extensively in five Minor League seasons, Bochy called Triple-A Fresno manager Bob Mariano to learn as much as he could about Perez's defensive tendencies. Bochy could have assigned Perez to left field but opted to play him in center, where he made an impressive catch at the wall to end the first inning Sunday.
"Left field is the toughest position of the three when you haven't played it much," Bochy said, referring to the difficult angles batted balls often take toward that spot. Perez made just 34 Minor League appearances in left.
Bochy also installed Perez in the seventh spot to separate left-handed batters Brandon Belt and Brandon Crawford and give the Giants' order some variety.
With Pablo Sandoval resting his strained left foot, Bochy had a middle-of-the-order spot to fill. He put Joaquin Arias, Sandoval's replacement at third base, in the fifth position. Bochy reasoned that Arias, a right-handed batter, was as good a choice as any to use in that spot against Arizona left-hander Tyler Skaggs. Though Arias entered Sunday hitting .222 against both lefties and righties this year, last season he batted .303 off lefties, compared with .240 against righties.
Elevating Belt to the fifth spot might have made sense, but Bochy preferred to leave the first baseman sixth, where he was likely to feel most comfortable.
Chris Haft is a reporter for MLB.com. This story was not subject to the approval of Major League Baseball or its clubs.