McCarthy says he's OK after recent seizure
McCarthy says he's OK after recent seizure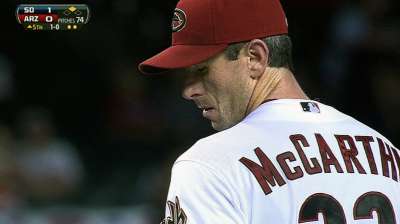 PHOENIX -- D-backs right-hander Brandon McCarthy had a seizure last Monday while dining with his wife, Amanda, at a restaurant in Phoenix.
Brought on by the bruise left on his brain when was hit in the head last season with a line drive while playing for the A's, the 29-year-old was taken to the Mayo Clinic in Scottsdale where a CT scan determined he didn't suffer any head trauma.
Speaking to reporters at Chase Field on Sunday, McCarthy said he felt fine and that he'll be on medication to help prevent him from having another seizure.
"There's always a chance of it happening when you have a bruise on your brain, it leaves you vulnerable to it," McCarthy said. "We knew there was a possibility of it happening, we were just hoping we had gotten past it. Something just brought this on."
At the hospital, doctors initially thought they saw internal bleeding on the scan, but after further examination, they determined the shadowing on the picture was normal.
"I might've bumped my head when I kind of fell over at the restaurant," McCarthy said. "It was something you have to get through and now we know a little bit more about it and we can treat it. I guess you can say it was good to get it out of the way, now we know what we're dealing with."
McCarthy doesn't remember much about the incident, but from what he's told, Amanda sprang into action when the seizure happened, calling for help and alerting the restaurant's staff immediately.
"That's the version I've heard, that's what it sounds like," McCarthy said. "She's pretty good in crisis situations, she handled this one pretty well. I know some of the chefs from the back came around to help. We're extremely grateful for everyone that helped."
McCarthy, who has been on the 15-day disabled list since June 1 with shoulder inflammation, said the seizure won't affect his timetable in returning to the mound. He plans to begin throwing again next week.
"It doesn't change anything for me," he said. "All the rehab stuff I'm doing right now isn't really intensive anyways. It's just something I have to deal with."
Tyler Emerick is an associate reporter for MLB.com. This story was not subject to the approval of Major League Baseball or its clubs.