Moylan has mixed emotions while facing Braves
Moylan has mixed emotions while facing Braves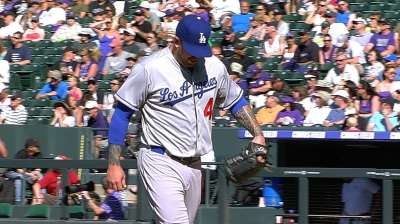 LOS ANGELES -- Peter Moylan experienced a wave of emotions on Saturday night while pitching against the Braves for the first time since signing with the Dodgers during the offseason. Before tossing a scoreless ninth inning in Atlanta's 2-1 win, he saw his best friend Kris Medlen experience something special when he hit his first career home run in the fifth.
"It was obviously cool," Moylan said. "But at the same time, it was a run against us. So it was mixed emotions."
Moylan established himself as a fan and clubhouse favorite while pitching for the Braves from 2006-12. The veteran reliever, who has undergone elbow, back and shoulder surgeries over the past four years, signed a Minor League contract with the Dodgers in January and was called up to the Majors last week.
"I miss the guys and I miss the fans, obviously," Moylan said. "I still get tweeted by Atlanta fans almost every day. I consider Atlanta my home now. But if I was going to land anywhere, this is a cool place."
While tossing his scoreless inning against the Braves, Moylan faced Dan Uggla, B.J. Upton, Jordan Schafer and Andrelton Simmons.
"It was weird, a little surreal," Moylan said. "But having to face Uggla first was nice because I'm used to facing him from his Marlins days. It was cool. I didn't look over to [the Braves dugout] at all."
Mark Bowman is a reporter for MLB.com. This story was not subject to the approval of Major League Baseball or its clubs.