A's held to five hits, fall to White Sox in series finale
A's held to five hits, fall to White Sox in series finale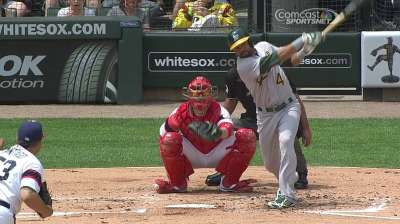 CHICAGO -- For much of the A's 17-game period without an off-day, there was no sign of fatigue. Perhaps because it was blanketed by wins, and lots of them.
But that stretch ended with a loss on Sunday. Two in a row, in fact. And Oakland's bats sure did look tired against the White Sox.
No player admitted to feeling sluggish -- "I feel fresh," Josh Donaldson said after the 4-2 loss -- but there's no denying the challenge that comes with playing 17 in a row, spanning five cities and a few time zones.
And with the conclusion of Sunday's affair, in advance of Monday's off-day at home, the A's were staring down back-to-back losses for the first time since May 14-15 against the Rangers, whose win earlier in the day gave them a half-game lead on Oakland in the American League West.
Still, the A's escaped their lengthy 17-game stretch with 13 wins, including four on this seven-game road trip that started in Milwaukee, and they sit at 11 games over .500.
"It felt like we've been doing a lot of shaking hands, that's for sure, so two in a row does feel like it's kind of an oddity," manager Bob Melvin said. "But any time you play 17 in a row, it's nice to get a day off, especially after we got beat the last two days."
Oakland collected just five hits in the loss, less than 24 hours after managing only four against a dominant John Danks.
It was Hector Santiago, returning to a starting role in place of an injured Jake Peavy, who handcuffed the A's over 6 1/3 innings this time.
Coco Crisp tallied his seventh homer of the season in the third, but the A's wouldn't plate another run until the seventh, and it was only because reliever Matt Thornton made a throwing error to first on an attempted pickoff, allowing Josh Reddick to score from third with two outs.
"He was kind of effectively wild," Donaldson said. "He was kind of everywhere, but throwing just enough strikes. He did a good job, limiting any damage that could have been done."
"His ball was getting on you better than we saw it at our place when he was relieving," Melvin added. "He has that herky-jerky motion a little bit, and the ball gets on you. Saw some [95-mph pitches] out of him today, and there was more life on his balls. We were behind some balls early in the game against him and he was pitching farther in effectively."
A.J. Griffin outlasted Santiago with 7 1/3 innings of work. But Oakland's right-hander was done in by the long ball, handing one out to Tyler Flowers in the third and, with one out in the eighth in a one-run game, another to Alex Rios.
In between, he gave up a two-spot in the fourth, the inning that led to much of his postgame frustration.
Each team had one run at the beginning of the frame, which unraveled when Adam Dunn sent a curveball down the right-field line for a double. Paul Konerko followed with a base hit, leading to Conor Gillaspie's sacrifice fly. One walk later, Griffin allowed an RBI double to Gordon Beckham.
"The big at-bat was Adam Dunn's second at-bat, when he hit that double," Griffin said. "He did a good job of fighting off some pitches and then hooked a changeup down the line. It [stinks] losing that battle, but then you gotta keep pitching. They started getting some hits, and I tried to minimize, but they ended up getting two. I just wanted to keep us in the ballgame the next few innings.
"Bob asked me how I felt after the seventh, I told him, 'Great,' and it's nice he stuck with me. It [stinks] when you go out there and feel like you let him down, after giving up that homer, but overall today I felt like I battled and I just wasn't good enough for us."
Griffin is winless in his last two starts, but has a 2.51 ERA over that time, reflecting the lack of run support from his teammates.
"You're playing a first-place team, it's a tough team, and we've had a tough time with them," White Sox manager Robin Ventura said. "They have a good lineup, they grind, they make you throw a lot of pitches. They force you to throw a lot more pitches than other teams, and Hector was able to stay with it today. It's just a credit to him."
The A's, meanwhile, aren't at all rustled by this mini losing stretch.
"We feel good," Donaldson said. "This team's not losing confidence after losing two in a row. Chicago's a pretty good team over there, a real good team.
"I feel like we're still playing pretty hard. We're grinding, but the day off will maybe help a little bit."
Jane Lee is a reporter for MLB.com. This story was not subject to the approval of Major League Baseball or its clubs.