Hundley, Richard get trapped in an office before game
Hundley, Richard get trapped in an office before game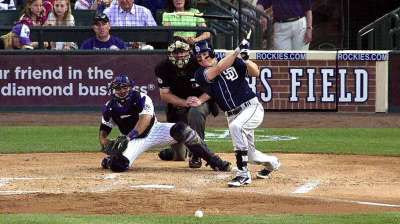 DENVER -- Before each game, Padres pitching coach Darren Balsley and the starting pitcher and catcher huddle to go over scouting reports.
But something funny happened before Sunday's series finale against the Rockies, when Balsley, starter Clayton Richard, and catcher Nick Hundley tried to emerge from the office of visiting clubhouse manager Alan Bossart -- the door wouldn't open.
For about 10 minutes, Bossart and Coors Field clubhouse workers tried different keys and other means to open the door. Nothing worked. Soon enough, Padres players, coaches and staff gathered around, laughing.
Outfielder Chris Denorfia placed speakers next to the door and played "Break on Through" by The Doors.
"[Balsley] is going through the vent," Hundley joked.
Finally, someone inside the room pulled the door from its hinges, and Bossart kicked in the door to his own office to free the players with plenty of time to spare before the game.
"That was fun," said Padres manager Bud Black.
All three emerged in good spirits, though Hundley's expression was more a look of relief as he headed to his locker to get ready for the game.
"It was like a sauna," he said.
Corey Brock is a reporter for MLB.com. Keep track of @FollowThePadres on Twitter This story was not subject to the approval of Major League Baseball or its clubs.