Stewart clutch in ninth as Yanks win series in Seattle
Stewart clutch in ninth as Yanks win series in Seattle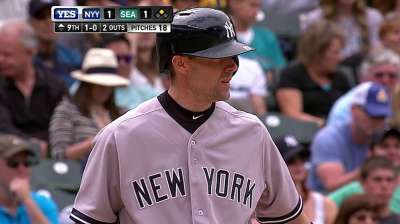 SEATTLE -- The reputation Chris Stewart has formed over parts of seven big league seasons is as a solid defensive catcher, a journeyman who guides a pitching staff through nine innings nicely but probably is not your top choice to play every day behind the plate.
Stewart is doing his best to rewrite that scouting report and has earned manager Joe Girardi's trust on both sides of the ball as the Yankees' regular backstop this season. His ninth-inning single drove in the go-ahead run on Sunday, lifting the Yankees to a 2-1 victory over the Mariners at Safeco Field.
"It's a huge confidence booster," said Stewart, whose game-deciding hit came off Seattle reliever Yoervis Medina. "Joe felt good about the situation and I felt good going into it. I know I've been seeing good pitches and putting good swings on the ball. Fortunately, I had another one."
A career .217 hitter entering this season, Stewart was primed to be Francisco Cervelli's backup before an injury pressed him into starting duty. Playing regularly seems to have agreed with the 31-year-old, whose .276 average and .700 OPS blend in respectably amongst the Yankees' bigger stars.
"He's been really important. Stewie has done a really good job," Girardi said. "You see the job he does behind the plate. He's gotten on base this year and he's had some big RBIs -- maybe none bigger than this one."
Ichiro Suzuki raced home with the go-ahead run as Stewart's grounder through the left side of the infield provided the game's first scoring since the second inning. Medina was handed the loss in relief after Seattle ace Felix Hernandez held the Yankees to one run over seven strong innings.
In what figures to be his final appearance at Safeco Field, Mariano Rivera pitched around two singles and a walk in the ninth inning before finishing off his 23rd save in 24 opportunities.
Rivera converted 37 of 39 save opportunities in his career against the Mariners, blowing just one career save chance at Safeco Field -- back in 2009, when he served up a game-winning homer to Ichiro.
"I was looking around. It's my last one," Rivera said. "Usually, I don't do it, but today -- Seattle, I've always had good outings here, good numbers. It's special, I don't know why. We always play good here. I was soaking that in a little bit."
David Robertson was credited with the win after wriggling free of a tight spot in the eighth, striking out two batters to escape after Alex Liddi opened the inning with a double and moved up on a sacrifice.
"Every day, it's a different guy," Rivera said. "That's what we do. It's not just one player here that we're going to rely on. We rely on nine players in the field and the rest on the bench. We're all pulling for the same reason."
The early portion of the contest saw Yankees starter David Phelps and Hernandez locked in a duel, with each hurler permitting just a second-inning run -- Phelps over six innings and Hernandez through seven frames.
"It's impressive," said Brett Gardner, who had four hits in the victory. "[Phelps'] pitch count got up a little bit early; he wasn't really pounding the zone like he normally does, so for him to stay in the game as long as he did and keep trading zeros with [Hernandez], it's pretty fun to watch."
The Mariners' only run off Phelps came as Kelly Shoppach stroked a one-out double to left field and, after a two-out walk, came in on Brendan Ryan's infield hit to shortstop Reid Brignac. He walked three and struck out six, permitting just three hits.
"Regardless of who I'm pitching against, I'm going to go out and try to put up as many zeros as I can," Phelps said. "It just so happens that if you're facing an ace, you've got to try to keep them in the game a little bit more. He's done it for so long, and he's done it so well, you know a lot of times you might only get one run."
The Yankees -- who won three of four games in the series from Seattle -- manufactured that run off Hernandez in the second inning, as Jayson Nix singled and stole second base. Stewart advanced the runner with a textbook bunt single down the third-base line, and Gardner's single to center field knocked home the run.
"I saw the ball well off him today. Other days, you don't see it at all," Gardner said. "He's got real good stuff. We took advantage of a couple balls he left up in the zone today, but usually when he's down in the zone, he's tough. It's a big win for us."
Bryan Hoch is a reporter for MLB.com. Follow him on Twitter @bryanhoch and read his MLBlog, Bombers Beat. This story was not subject to the approval of Major League Baseball or its clubs.