Alvarez deals gem in debut as Tigers sweep Tribe
Alvarez deals gem in debut as Tigers sweep Tribe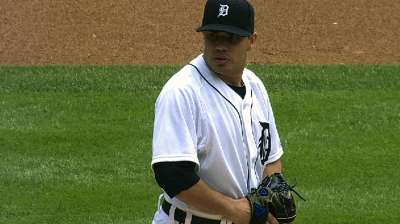 DETROIT -- Jose Alvarez was only supposed to be a spot starter for Anibal Sanchez, who was scratched with tightness in his shoulder. He even knew before the game that he was going to be sent down to Triple-A Toledo immediately after his start.
However, Alvarez did a fine impression of Sanchez on Sunday, stifling the Indians for six innings in the Tigers' 4-1 win in front of a sold-out crowd of 41,262 at Comerica Park.
Detroit, which swept the three-game series, opened a 5 1/2-game lead in the American League Central and ended its six-game homestand with a 5-1 mark.
"The big boys can't do it every day," Alex Avila said. "They'll do it most days, but you got to get contributions from everybody else at certain times of the year. To win a game here, that's always important."
In his Major League debut, Alvarez (1-0) only gave up three hits and one run while striking out seven. He became the first Tigers starting pitcher to earn a win in his debut since 2009, and only the second pitcher since 1916 to go at least six innings, allow three-or-fewer hits, one-or-fewer runs and have at least seven strikeouts.
With Drew Smyly cemented as a key figure in the bullpen, the Tigers can put their minds at ease knowing they have a No. 6 starter waiting in the wings at their disposal.
Alvarez leads the International League in strikeouts (76), WHIP (1.01) and baserunners per nine innings (9.20).
"He certainly had his demeanor and his mound presence was good," manager Jim Leyland said. "He didn't appear to be overwhelmed by anything. We kind of expected that from Spring Training. This kid's pretty calm. When it was his turn to pitch, he pitched. He's a nice piece to the puzzle."
Alvarez didn't allow a base hit through the 4 2/3 innings, although he admitted he was nervous when he first stepped on the mound.
"Yeah, I'd be lying to you if I said no," he said. "I think it's normal. I controlled my emotions, keeping focused in the game with my catcher."
The only damage against Alvarez was a slider that Ryan Raburn hit into the left-field seats with two outs in the fifth. The former Tigers player's seventh home run tied the game at 1-1.
Alvarez fell behind, 3-0, to the next hitter before recovering and getting a grounder back to the mound, which he lightly tossed to first.
"He came right back, and that's what made the most impression on me," Leyland said. "He didn't get frightened once the guy hit the home run. Once he threw three balls in a row, I said, 'Uh oh.' But then he just gathered himself and went right back after them, and that's one of the things that sticks in my mind."
Leyland stacked his lineup with left-handed hitters to combat the Indians' right-handed hurler, Justin Masterson, who has allowed a .687 OPS to lefties, as opposed to .546 vs. righties. That provided left-handed-hitting center fielder Don Kelly a chance to start.
Entering the game, Kelly was hitting .353 (6-for-17) against Masterson. He proved those numbers were no fluke against the Indians ace when he belted a slider down and in for his third home run of the season to right to break the deadlock and give the Tigers a 4-1 lead.
"Usually, it's not one of those, Masterson said. "Usually, he drops it in somewhere else. This time, he dropped it in over the fence."
Despite loading up the bases in the second inning, Masterson kept the Tigers' bats at bay until Kelly's home run.
"That's a tough right-hander he hit it off of today," Leyland said. "That's not just some donkey he gets to hit ... that's a No. 1 guy. That's pretty good."
While Alvarez will get more seasoning down in Toledo, he had a day he'll never forget.
Heading into the dugout after his sixth inning of work, Alvarez earned a handshake and a hug from Leyland before the skipper told him, "Good job, kid." His teammates rewarded him with a beer shower in the clubhouse afterwards.
"I felt good," Alvarez said. "Maybe in the first inning I was a little excited, a little nervous. But like I said, I tried to control that as much as I could, then after that I focused on the game and gained some confidence."
Bobby Nightengale is an associate reporter for MLB.com. Follow him on Twitter @nightengalejr. This story was not subject to the approval of Major League Baseball or its clubs.