After 17-game stretch, A's ready for off-day
After 17-game stretch, A's ready for off-day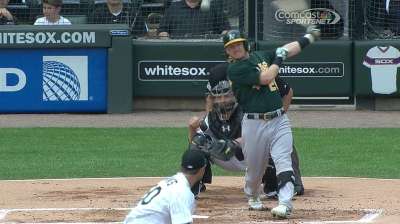 CHICAGO -- Considering how well the A's have done during a stretch without an off-day, perhaps they shouldn't take one, as scheduled, come Monday.
"Usually when you're playing well, you don't want the off-days," manager Bob Melvin said, "but in this particular case, we're all looking forward to it tomorrow.
"We've had a long stretch of games here, with National League teams, American League teams, different time zones. We're a little bit tired right now."
The A's played the final game of their 17-game span without an off-day Sunday, having covered five cities in that time. They won 13 of the first 16.
Coco Crisp, Yoenis Cespedes and Josh Donaldson have started all of them, yet Donaldson is the only one who's played the field in each, with Crisp and Cespedes getting something of a half day off by way of the designated-hitter role at least once.
"You can tell from day to day certain guys are dragging a little bit, but they go out there and give 100 percent," Melvin said. "They continue to play really hard."
Jane Lee is a reporter for MLB.com. This story was not subject to the approval of Major League Baseball or its clubs.