Nieuwenhuis rejoins Mets with improved swing
Nieuwenhuis rejoins Mets with improved swing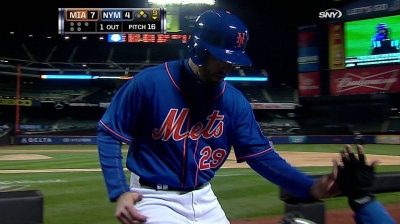 NEW YORK -- Early on Sunday morning, some time after Kirk Nieuwenhuis arrived in New York at 7:30 a.m. ET and Terry Collins spoke with the media at 10 a.m., the manager and the newest member of his team talked about the outfielder's time with Triple-A Las Vegas.
It's where Nieuwenhuis started to get his swing back, where he found an improved power stroke and where he finally was able to once again get consistent at-bats. He changed some things physically with his swing, he changed some stuff mentally, but most important was the repetition.
"Overall, just the amount of at-bats I got was huge," Nieuwenhuis said. "I think it helped a lot, for sure."
The newest member of the Mets, Nieuwenhuis batted just .232 with the 51s and wasn't in the lineup, but he pinch-hit in the 10th and struck out.
Nieuwenhuis said Collins hadn't discussed the outfielder's role much, but Collins said it "won't be a straight platoon" in the outfield.
"You want to pick your spots, not to put Juan [Lagares] over his head or even Nieuwy over his head against somebody that he's just not going to be able to hit," Collins said.
Nieuwenhuis replaces Rick Ankiel, who was designated for assignment after an 0-for-4 day with three strikeouts in Saturday's 20-inning, 2-1 loss to Miami. Ankiel batted .188 this season (24-for-128), just .098 (8-for-82) since debuting with New York on May 2.
He played 21 games with the Astros before joining the Mets and has struck out 60 times this season.
Nieuwenhuis brings a nearly certain upgrade in terms of consistency, as well as power. He's clubbed 10 home runs in Triple-A, albeit in the hitter-friendly Pacific Coast League, and credits a change in mechanics, approach and repetition -- not beneficial weather.
He said he was taking too many fastballs, especially early in the count, and keeping his front foot a little too close to the mound. As early as Sunday, he'll have a chance to try these adjustments out in New York.
"It's great to be back with my teammates," Nieuwenhuis said. "Hopefully we can get something going here. I know we've got an off day tomorrow, but hopefully we get something going."
Chris Iseman and David Wilson are associate reporters for MLB.com. This story was not subject to the approval of Major League Baseball or its clubs.