MRI shows Kratz tore left meniscus
MRI shows Kratz tore left meniscus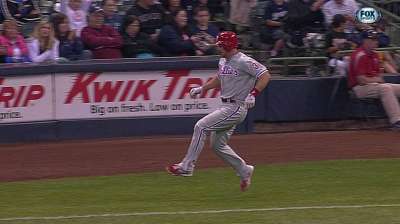 MINNEAPOLIS -- Erik Kratz needed crutches to get through the Phillies clubhouse Saturday night at Miller Park.
It looked bad, and it is. A MRI exam Monday in Philadelphia revealed Kratz tore the meniscus in his left knee, which will require surgery. A recovery time will not be known until after the surgery. The Phillies placed Kratz on the 15-day disabled list Sunday.
He injured the knee running past first base in the ninth inning of Saturday's 4-3 loss to the Brewers.
The Phillies called up Steven Lerud from Triple-A Lehigh Valley to take his place on the 25-man roster.
The Phillies can only hope Carlos Ruiz returns soon. He has been on the disabled list since May 20 with a strained right hamstring. Ruiz said he plans to do a little more work in Minnesota this week before possibly heading to Triple-A Lehigh Valley to begin a rehab assignment by the weekend.
He still hopes to be back before the Phillies open a homestand June 17 against the Nationals.
"Yeah, that's my goal," he said. "I want to be back."
Kratz is second on the Phillies with eight home runs and fourth with 22 RBIs. He also is fifth among all catchers in baseball in homers.
Todd Zolecki is a reporter for MLB.com. This story was not subject to the approval of Major League Baseball or its clubs.