Blue Jays tab veteran Wang for Tuesday start
Blue Jays tab veteran Wang for Tuesday start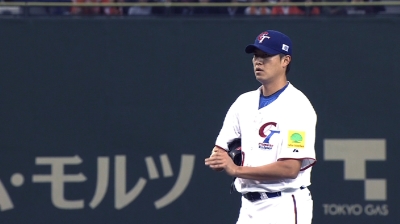 TORONTO -- After about a week of speculation, the Blue Jays confirmed that Chien-Ming Wang has signed with the club and will start Tuesday's game against the White Sox.
The start was originally intended for Chad Jenkins, but general manager Alex Anthopoulos liked what he's seen from the Taiwanese right-hander.
"Wang, even at the Minor League level, has had a lot more success than Chad has," Anthopoulos said."Then you look, obviously, at what he's done in his career, his experience.
"[He'll throw] a lot of strikes, get a lot of ground balls. He's not going to strike too many guys out, but he's going to induce contact and he should pitch deep into the game if he's having success."
Wang, 33, had been pitching for the Yankees' Triple-A affiliate, but was granted his release in order to pursue an opportunity in the Major Leagues. The seven-year veteran signed a $500,000 contract with the Blue Jays earlier this week, with a corresponding move to place Wang on the team's roster pending.
The Blue Jays are only guaranteeing one start for the two-time 19 game winner, but would be more than happy to give him more based on his performance.
"We hope he makes a lot of starts for us, but you don't want to promise X number amount of starts," Anthopoulos said. "Hopefully he does well, and we catch lightning in the bottle with him."
Wang was 4-4 with a 2.33 ERA in 58 innings for Scranton/Wilkes-Barre and pitched 12 scoreless innings at the World Baseball Classic.
Wang struggled last year with the Nationals, going 2-3 with a 6.68 ERA, and giving up 50 hits in only 32 1/3 innings.
It's been an ongoing trend for the right-hander, whose injury woes dating back to 2008 have derailed a once-promising career.
Part of the reason Toronto signed him was to acquire pitching depth. With Brandon Morrow and J.A. Happ on the disabled list, and Ricky Romero working on finding his form in Triple-A Buffalo, the Blue Jays are thin on replacement options.
"If Chad makes that start and something else happens to another starter, I don't know who the next guy would be right now," Anthopoulos said.
Evan Peaslee is an associate reporter for MLB.com. This story was not subject to the approval of Major League Baseball or its clubs.